Murata to exhibit at the 2018 Open Compute Summit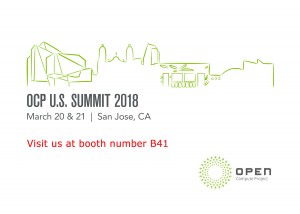 We are pleased to announce that Murata will be exhibiting at 2018 US Open Compute Summit being held March 20 – 21, 2018 in San Jose, CA. The annual Summit brings together more than 3,000 attendees including executives, engineers, developers and suppliers that help to grow, drive and support the open hardware ecosystem in and around the data center environment. Our team looks forward to meeting you and showing you our latest power products for Data Center, Server, Storage and Networking applications. Event details Dates: Tuesday, March 20 – Wednesday, March 21, 2018 Location: San Jose Convention Center Booth No.: B41
Overview
Products on display to include:
OCP Power Shelves and Rack
21", 1OU, 18kW power shelf, configurable for 18kW w/no redundancy, 15kW N+1 or 9kW N+N. The shelf consists of 6x3kW hot pluggable Power Supply Units with or without internal ATS dual redundant inputs and a Remote Management Unit. The shelf has an external connector for use with our Battery Backup Shelf. 19", 2.5U, 18kW, power shelf configurable for 18kW w/no redundancy, 15kW N+1 or 9kW N+N. The shelf consists of 6x3kW hot pluggable Power Supply Units, a Remote Management Unit and module slots for dual input ATS Modules. Both shelves can be used in conjunction with our OCP Open Rack which can be configured for single or dual power zones and support either Open Rack 1 (3 sets of busbars) or Open Rack 2 (1 set of busbars) configurations.
Battery Backup Module (BBU) Module and Battery Shelf
The Battery Shelf consists of up to four (4) Battery Backup Modules each rated at 4kW of 12V power. The battery shelf, when used in conjunction with the Murata OCP Power Shelf, can provide 16kW of backup power for up to 2 minutes of run time at full load. The battery modules employ Tohoku Murata battery pack/cell technology.
Further editorial information from:
Amy Collins
Marketing Communications Manager
Murata Power Solutions
Tel: +1-508-964-5270
Contact details for publication:
Murata Power Solutions, Inc.,
129 Flanders Road
Westborough, MA 01581, USA
Tel: +1-508-339-3000
About Murata Power Solutions
Murata Power Solutions (www.murata-ps.com) is headquartered in Westborough, Massachusetts, with over 1,300 employees worldwide. Murata Power Solutions designs, manufactures and distributes DC-DC Converter, AC-DC Power Supply, Magnetic and Digital Panel Meter product lines, and offers these products in custom, standard and modified-standard variations. Murata Power Solutions. products are typically used within electronic applications serving major global market sectors including telecommunications, computing and industrial controls.
Murata Power Solutions is a division of Murata Manufacturing Co., Ltd., a worldwide leader in the design, manufacture and sale of electronic components and power supply modules. Murata's devices are found in a wide range of applications including consumer and automotive electronics, and wireless devices. The company has employees and manufacturing facilities throughout the world.