We're exhibiting at InnoTrans 2018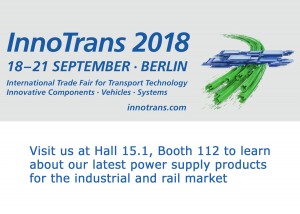 Berlin 18 – 21 September 2018
We are pleased to announce that we are exhibiting at 
InnoTrans 2018
. InnoTrans is the international trade fair for rail transport technology – innovative components, vehicles, and systems. Our team looks forward to meeting you in Berlin and showing you our latest power supply products for the industrial and rail market.
Event details
Period: Tuesday, September 18 – Friday, September 21 Location: Berlin, Germany Register: 
Click here
Booth No: Hall 15.1, Booth 112
Overview
Murata will showcase the latest components and technologies for power conversion that are designed for applications that require high reliability in demanding applications. The products are suitable for a wide variety of transportation applications.
Power
•
AC/DC power supplies 
• 
DC/DC converters 
Inductive Components
• 
Inductors
Further editorial information from:
Amy Collins
Marketing Communications Manager
Murata Power Solutions
Tel: +1-508-964-5270
Contact details for publication:
Murata Power Solutions, Inc.,
129 Flanders Road
Westborough, MA 01581, USA
Tel: +1-508-339-3000
About Murata Power Solutions
Murata Power Solutions (www.murata-ps.com) is headquartered in Westborough, Massachusetts, with over 1,300 employees worldwide. Murata Power Solutions designs, manufactures and distributes DC-DC Converter, AC-DC Power Supply, Magnetic and Digital Panel Meter product lines, and offers these products in custom, standard and modified-standard variations. Murata Power Solutions. products are typically used within electronic applications serving major global market sectors including telecommunications, computing and industrial controls.
Murata Power Solutions is a division of Murata Manufacturing Co., Ltd., a worldwide leader in the design, manufacture and sale of electronic components and power supply modules. Murata's devices are found in a wide range of applications including consumer and automotive electronics, and wireless devices. The company has employees and manufacturing facilities throughout the world.