We're Exhibiting at Electronica 2016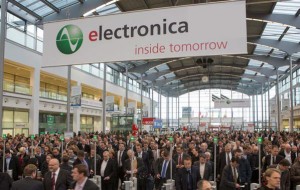 We're exhibiting at Electronica 2016 October 21, 2016 We are pleased to announce that we are exhibiting at Electronica 2016. The world's leading trade fair for electronic components, systems and applications. Our team looks forward to meeting you in München and explaining more about our latest technologies. Event details Period: Tuesday November 8 – Friday November 11 Location: Messe München Register: click here Booth No.: B5.K107 (Hall B5, stand 107) & A2.547 (Hall A2, stand 547) Overview Enabling your Innovation; Murata will demonstrate its new technologies based on a variety of concepts suitable for use in automotive, consumer, healthcare, industrial, security and energy applications. Live demonstrations will be hosted by our highly knowledgeable product specialists. Booth A2.547: Demonstrations include Energy Management as well as an eBike on show. Murata will exhibit their latest Power product line up and products for Energy Management. • AC DC power supplies • AC DC power supplies, open frame • DC DC converter modules • Energy Management Systems • Ionizer/Ozonizer • Power Inductors Internet of Things Zone Come and see our cutting edge products that contribute to the future of smart living. We will be showcasing our sensors, wireless communication modules and power solutions for smart homes, lighting, automotive and healthcare purposes. Additional Murata products will be on display in Booth B5.107: Demonstrations include MEMS sensors for Healthcare, Industrial and Automotive applications, IoT connectivity and sensor networking*, as well as RFID solutions for PCB related Industry 4.0 applications. Murata will exhibit their latest product line up including new connectivity modules and MEMS sensing products that will be launched at the show. Also on display will be the latest semiconductor products from the recently acquired Peregrine company.
Further editorial information from:
Amy Collins
Marketing Communications Manager
Murata Power Solutions
Tel: +1-508-964-5270
Contact details for publication:
Murata Power Solutions, Inc.,
129 Flanders Road
Westborough, MA 01581, USA
Tel: +1-508-339-3000
About Murata Power Solutions
Murata Power Solutions (www.murata-ps.com) is headquartered in Westborough, Massachusetts, with over 1,300 employees worldwide. Murata Power Solutions designs, manufactures and distributes DC-DC Converter, AC-DC Power Supply, Magnetic and Digital Panel Meter product lines, and offers these products in custom, standard and modified-standard variations. Murata Power Solutions. products are typically used within electronic applications serving major global market sectors including telecommunications, computing and industrial controls.
Murata Power Solutions is a division of Murata Manufacturing Co., Ltd., a worldwide leader in the design, manufacture and sale of electronic components and power supply modules. Murata's devices are found in a wide range of applications including consumer and automotive electronics, and wireless devices. The company has employees and manufacturing facilities throughout the world.