ULT : Murata Power Solutions introduces the Industry's first DOSA compliant 1/32 ''brick'' 30 W DC/DC converter series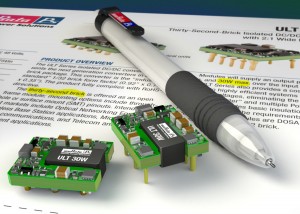 Murata Power Solutions today announced the ULT series of isolated 30 Watt DC/DC converters available in a miniature 1/32 brick industry standard Distributed-power Open Standards Alliance (DOSA) compatible open frame package. Measuring just 19.1 x 23.4 x 8.89 mm, the ULT series takes up significantly less board space than other 30W products on the market and is available with either through-hole or surface mount option. The ULT series has been designed with a wide (2:1) input voltage range of 36 – 75 VDC to meet the requirements of 48V and 60V battery back-up systems. The initial product release includes 12Vout, 5Vout, and 3.3Vout models with lower voltages to come in the near future. The maximum output power of 30 W is available from the 12Vout model, with the 5V and 3.3V models producing 25W. Line regulation is typically within +/- 0.1% of Vout across all Vin conditions at full load. An external trim function allows the output voltage to be trimmed by + 10 % to – 20% to accommodate losses. Input to output isolation is certified to 1,500 V in accordance with the internationally recognized safety standard EN/UL60950. The ULT series offers features that include remote On/Off control of either negative or positive logic, Vout trim and a remote sense capability. In addition the converter has a number of protection features including output short circuit protection, over temperature shutdown and input under voltage lockout. The ULT series was designed for a wide range of applications including distributed power architectures in Industrial, Telecommunications, Routing, Optical Networking, Wireless equipment and Microwave Radio/point to point communications. The ULT series is designed to operate in the most severe outdoor environments with an operating ambient temperature range from -40 to +85 degrees C.
Ref. MPS175A
Further editorial information from:
Amy Collins
Marketing Communications Manager
Murata Power Solutions
Tel: +1-508-964-5270
Contact details for publication:
Murata Power Solutions, Inc.,
129 Flanders Road
Westborough, MA 01581, USA
Tel: +1-508-339-3000
About Murata Power Solutions
Murata Power Solutions (www.murata-ps.com) is headquartered in Westborough, Massachusetts, with over 1,300 employees worldwide. Murata Power Solutions designs, manufactures and distributes DC-DC Converter, AC-DC Power Supply, Magnetic and Digital Panel Meter product lines, and offers these products in custom, standard and modified-standard variations. Murata Power Solutions. products are typically used within electronic applications serving major global market sectors including telecommunications, computing and industrial controls.
Murata Power Solutions is a division of Murata Manufacturing Co., Ltd., a worldwide leader in the design, manufacture and sale of electronic components and power supply modules. Murata's devices are found in a wide range of applications including consumer and automotive electronics, and wireless devices. The company has employees and manufacturing facilities throughout the world.