ACM3P : Murata Power Solutions launches compact 3-phase AC digital ammeter with built-in current transformers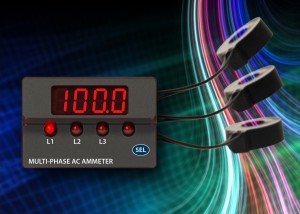 Murata Power Solutions today announced the ACM3P series of low profile 3-phase AC digital ammeters suitable for front panel mounting. Capable of high precision measurement to within 0.1 A and display of true-rms values of 2- or 3-phase mains current up to a maximum of 100 A per phase, the ammeter has three built-in current transformers. Line and phase currents from 480 VAC can be measured, with peak capability of 150 A. Unlike many digital ammeters available on the market that measure average values, the ACM3P series can accurately display true-rms values of triangle, square and other irregularly shaped AC current waveforms. Measurement accuracy is +/- 1% of full scale. Accepting a universal 85 - 264 VAC 47 – 63 Hz supply input the ACM3P series is suitable for 3-phase current monitoring requirements worldwide. Accommodated in a single vibration resistant polycarbonate housing measuring just 53.3 x 36.3 x 28.2 mm, the ammeter is ideal for mounting in vertical '0U' or horizontal '1U' rack spaces. The ACM3P uses a 9.2 mm low power LED display that is available in a choice of red, blue or green. The large and bright LEDs makes it easy to read the display from as far as 5 meters. A front panel selector switch allows the user to quickly cycle through each of the three phase currents under measurement. The ACM3P series is suitable for a broad range of test, instrumentation and energy metering applications. A low power microcontroller is used for measurement, and together with low power LED displays ensures that the ammeter consumes very little power, typically less than 0.5 W from a 240 VAC supply. No additional components are required making the ammeter quick and easy to install.
Ref. MPS174A
Further editorial information from:
Amy Collins
Marketing Communications Manager
Murata Power Solutions
Tel: +1-508-964-5270
Contact details for publication:
Murata Power Solutions, Inc.,
129 Flanders Road
Westborough, MA 01581, USA
Tel: +1-508-339-3000
About Murata Power Solutions
Murata Power Solutions (www.murata-ps.com) is headquartered in Westborough, Massachusetts, with over 1,300 employees worldwide. Murata Power Solutions designs, manufactures and distributes DC-DC Converter, AC-DC Power Supply, Magnetic and Digital Panel Meter product lines, and offers these products in custom, standard and modified-standard variations. Murata Power Solutions. products are typically used within electronic applications serving major global market sectors including telecommunications, computing and industrial controls.
Murata Power Solutions is a division of Murata Manufacturing Co., Ltd., a worldwide leader in the design, manufacture and sale of electronic components and power supply modules. Murata's devices are found in a wide range of applications including consumer and automotive electronics, and wireless devices. The company has employees and manufacturing facilities throughout the world.