UWS : 50 Watt isolated DOSA compatible sixteenth brick DC/DC converters offer 4:1 input range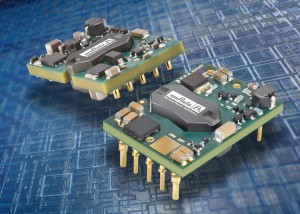 Murata Power Solutions today announced the UWS series of 50 Watt medium power isolated DC/DC converters that are available in either through-hole or surface mount configurations. Meeting the DOSA standard for sixteenth brick dimensions of 1.31 x 0.91 x 0.36 inches, these compact units accommodate the wide input range of + 18 to + 75 VDC around a nominal 48 VDC. Input to output isolation is rated at 2,250 VDC so that the output is protected from spikes, transients and noise on the input. Within the series there are three models offering outputs of 3.3, 5 or 12 VDC. Up to 54 W output is available without the need for any forced air cooling. The 12 VDC unit suits regulated intermediate bus applications. The outputs are regulated to within +/- 0.125% across all load conditions. Also, the outputs may be trimmed +/- 10%, 3.3 VDC model, or +10% to -20% for the 5 and 12 VDC models allowing the user to compensate for voltage losses. Suiting a broad range of data and telecommunications applications, the UWS series has many self-protection controls such as overcurrent, overvoltage, input undervoltage and overtemperature shutdown. For systems requiring controlled startup and shutdown, an external remote on/off control may be driven by a switch, transistor or logic signal. This control can be selected as either positive or negative polarity. Accommodating a wide range of operating temperature from – 40 degrees C to + 85 degrees C the series has guaranteed operation over the normal industrial range. The UWS series complies with the internationally recognized safety standards UL/EN 60950-1 and CSA-C22.2 No. 60950-1 2nd editions for IT and commercial equipment.
Ref. MPS165A
Further editorial information from:
Amy Collins
Marketing Communications Manager
Murata Power Solutions
Tel: +1-508-964-5270
Contact details for publication:
Murata Power Solutions, Inc.,
129 Flanders Road
Westborough, MA 01581, USA
Tel: +1-508-339-3000
About Murata Power Solutions
Murata Power Solutions (www.murata-ps.com) is headquartered in Westborough, Massachusetts, with over 1,300 employees worldwide. Murata Power Solutions designs, manufactures and distributes DC-DC Converter, AC-DC Power Supply, Magnetic and Digital Panel Meter product lines, and offers these products in custom, standard and modified-standard variations. Murata Power Solutions. products are typically used within electronic applications serving major global market sectors including telecommunications, computing and industrial controls.
Murata Power Solutions is a division of Murata Manufacturing Co., Ltd., a worldwide leader in the design, manufacture and sale of electronic components and power supply modules. Murata's devices are found in a wide range of applications including consumer and automotive electronics, and wireless devices. The company has employees and manufacturing facilities throughout the world.