ULS-30W : Sixteenth-brick low cost 30W DC/DC converter targets embedded datacom applications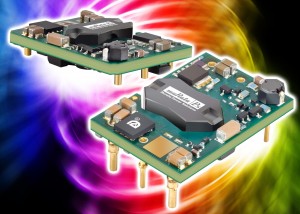 Murata Power Solutions today announced the availability of the ULS series of open frame, PCB board mount 30 Watt isolated DC/DC converters. With a 2:1 input voltage range of 36 – 75 VDC (48 VDC nominal), these miniature "sixteenth-brick" DOSA compatible converters measuring just 33.27 x 23.11 x 8.13 mm (1.31 x 0.91 x 0.32 inches) are ideal for a wide range of datacom, telecom and industrial applications. The ULS series comprises two models offering either a 12 or 15 VDC output. The ULS-12/2.5-D48 12 VDC output model can provide up to 2.5 A output and is suitable for use in regulated intermediate bus applications. The 15 VDC model provides up to 2 A. The output may be trimmed within +10% to -20% of nominal Vout allowing the user to compensate for voltage losses. The series offers tight line and load regulation of +/- 0.125% providing an extremely stable output without the need for any additional external components. An On/Off control input provides the choice of configuring for either negative or positive polarity. No minimum load is required. The series is rated at 2250 VDC input to output isolation ensuring that the end-application is protected from spikes, transients or other noise on the input. The converters are certified to UL/EN/IEC 60950-1 2nd edition safety approvals for IT and commercial equipment. Operating temperature range is from -40 to +85 degrees C. The ULS series includes many self-protection features such as input under-voltage, output over voltage, over temperature shutdown, short-circuit and over-current "hiccup" autorestart. They are available in either DOSA standard through-hole mount or surface mount package options.
Ref. MPS115A
Further editorial information from:
Amy Collins
Marketing Communications Manager
Murata Power Solutions
Tel: +1-508-964-5270
Contact details for publication:
Murata Power Solutions, Inc.,
129 Flanders Road
Westborough, MA 01581, USA
Tel: +1-508-339-3000
About Murata Power Solutions
Murata Power Solutions (www.murata-ps.com) is headquartered in Westborough, Massachusetts, with over 1,300 employees worldwide. Murata Power Solutions designs, manufactures and distributes DC-DC Converter, AC-DC Power Supply, Magnetic and Digital Panel Meter product lines, and offers these products in custom, standard and modified-standard variations. Murata Power Solutions. products are typically used within electronic applications serving major global market sectors including telecommunications, computing and industrial controls.
Murata Power Solutions is a division of Murata Manufacturing Co., Ltd., a worldwide leader in the design, manufacture and sale of electronic components and power supply modules. Murata's devices are found in a wide range of applications including consumer and automotive electronics, and wireless devices. The company has employees and manufacturing facilities throughout the world.