D1U4CS-D-2100-54-HA3DC : Bulk power DC/DC supply suits distributed power systems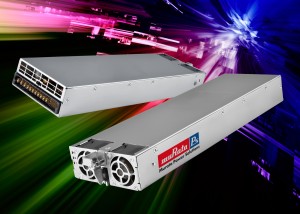 Murata Power Solutions today announced the availability of the D1U4CS front-end 2,100 Watt DC/DC power supply. This highly efficient unit, typically 93% efficient at half load power, is designed to deliver bulk power to 54 VDC distributed power applications. With a floating output, the design engineer can wire the power supply in a +54V configuration for data centre environment or -54V configuration for telco central office environment. A 5 VDC, 0.75 A standby output is also provided. Typical applications include use in telephone exchanges in-line from the battery-bank providing a highly reliable and regulated supply. Capable of operating over a wide input range, from -40 to -72 VDC, this compact 1U unit measures 344.4 x 101.6 x 40.6 mm (13.5 x 4 x 1.6 inches) and has an extremely high power density of 24.3 Watts per cubic inch. Two internal fans provide forced air cooling. The D1U4CS is N+1 redundant, hot-swappable and capable of droop current sharing. It has a comprehensive set of power control, logic signaling and operational status functions. The supply can automatically recover from over current and over temperature faults. These faults and all other signals are available though the I2C / PMBus interface together with status information by front panel LEDs
Ref. MPS128A
Further editorial information from:
Amy Collins
Marketing Communications Manager
Murata Power Solutions
Tel: +1-508-964-5270
Contact details for publication:
Murata Power Solutions, Inc.,
129 Flanders Road
Westborough, MA 01581, USA
Tel: +1-508-339-3000
About Murata Power Solutions
Murata Power Solutions (www.murata-ps.com) is headquartered in Westborough, Massachusetts, with over 1,300 employees worldwide. Murata Power Solutions designs, manufactures and distributes DC-DC Converter, AC-DC Power Supply, Magnetic and Digital Panel Meter product lines, and offers these products in custom, standard and modified-standard variations. Murata Power Solutions. products are typically used within electronic applications serving major global market sectors including telecommunications, computing and industrial controls.
Murata Power Solutions is a division of Murata Manufacturing Co., Ltd., a worldwide leader in the design, manufacture and sale of electronic components and power supply modules. Murata's devices are found in a wide range of applications including consumer and automotive electronics, and wireless devices. The company has employees and manufacturing facilities throughout the world.