3700, 3800 & 3900 : Surface mount low loss flat coil inductors aimed at high current applications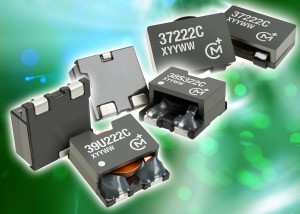 Murata Power Solutions today announced three new series of surface mount inductors aimed at high current applications where low loss characteristics are essential. The 3700, 3800 and 3900 series are flat coil inductors that provide a wide range of inductance values from 0.15 to 10uH with DC current ratings up to 19.5A. These extremely compact surface mount devices, measuring just 14.5 x 11.5 x 5.8mm (0.571 x 0.453 x 0.228 inches) for the 37301C 0.3uH 19.5A part, are available with DC resistance values ranging from 0.9 to a maximum of 20.3mOhm ensuring that any voltage drop is kept to an absolute minimum. The inductors are aimed at dc-dc power conversion applications where a high transient response is required. Examples include voltage regulator modules, notebook computers and plasma displays. They have an extremely wide range of operating temperature, from -40 to + 130degC that suits most environments. All inductors are RoHS compliant and backward compatible with Sn/Pb soldering systems. They are supplied in tape and reel packaging.
Ref. MPS138A
Further editorial information from:
Amy Collins
Marketing Communications Manager
Murata Power Solutions
Tel: +1-508-964-5270
Contact details for publication:
Murata Power Solutions, Inc.,
129 Flanders Road
Westborough, MA 01581, USA
Tel: +1-508-339-3000
About Murata Power Solutions
Murata Power Solutions (www.murata-ps.com) is headquartered in Westborough, Massachusetts, with over 1,300 employees worldwide. Murata Power Solutions designs, manufactures and distributes DC-DC Converter, AC-DC Power Supply, Magnetic and Digital Panel Meter product lines, and offers these products in custom, standard and modified-standard variations. Murata Power Solutions. products are typically used within electronic applications serving major global market sectors including telecommunications, computing and industrial controls.
Murata Power Solutions is a division of Murata Manufacturing Co., Ltd., a worldwide leader in the design, manufacture and sale of electronic components and power supply modules. Murata's devices are found in a wide range of applications including consumer and automotive electronics, and wireless devices. The company has employees and manufacturing facilities throughout the world.