2200RM : Murata Power Solutions introduces small footprint surface-mount inductors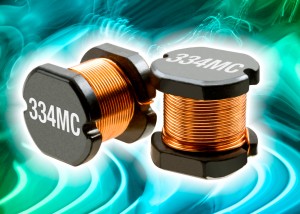 The new 2200RM series of bobbin wound inductors from Murata Power Solutions provides a surface mount alternative to the company's well established through-hole 2200R series. Suitable for use in a wide range of low to medium current applications, compact 2200RM inductors have a small footprint making them ideal for use in high density designs where a chip inductor is unable to cope with the power requirement. The 2200RM series provides engineers with a wide choice of inductance values ranging from 10µH to 68mH and DC current ratings up to 2.52A. Low DC resistance ratings enable a low voltage drop that helps reduce overall power consumption in customer designs. Custom value parts are also available if required. The RoHS compliant 2200RM series is backward compatible with Sn/Pb soldering systems and have an operating temperature range of -40°C to +85°C With overall dimensions of 7.8mm diameter (0.307in.) x 7.5mm high (0.295in.), parts are supplied in tape and reel packaging with 500 pieces per reel.
Ref. MPS 116A
Further editorial information from:
Amy Collins
Marketing Communications Manager
Murata Power Solutions
Tel: +1-508-964-5270
Contact details for publication:
Murata Power Solutions, Inc.,
129 Flanders Road
Westborough, MA 01581, USA
Tel: +1-508-339-3000
About Murata Power Solutions
Murata Power Solutions (www.murata-ps.com) is headquartered in Westborough, Massachusetts, with over 1,300 employees worldwide. Murata Power Solutions designs, manufactures and distributes DC-DC Converter, AC-DC Power Supply, Magnetic and Digital Panel Meter product lines, and offers these products in custom, standard and modified-standard variations. Murata Power Solutions. products are typically used within electronic applications serving major global market sectors including telecommunications, computing and industrial controls.
Murata Power Solutions is a division of Murata Manufacturing Co., Ltd., a worldwide leader in the design, manufacture and sale of electronic components and power supply modules. Murata's devices are found in a wide range of applications including consumer and automotive electronics, and wireless devices. The company has employees and manufacturing facilities throughout the world.