MTU1 : Murata Power Solutions sets a new standard for 1 Watt isolated DC-DC converters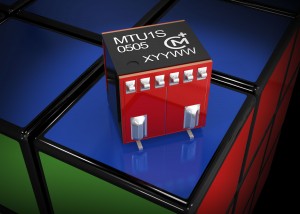 Murata Power Solutions is set to change the shape of 1 Watt isolated surface-mount DC-DC converters. The introduction of its new high performance MTU1 series marks a step-change in the miniaturization of power modules, setting new standards for footprint, load regulation and efficiency. The series is suited for industrial, test and measurement, process control applications and all application segments where an isolated surface mount DC-DC is needed. "Murata Power Solutions prides itself on continuing to set new standards to stay ahead of technical trends in the power supply module industry. Designing this iconic DC-DC converter was no exception," comments Ann-Marie Bayliss, Product Manager, Murata Power Solutions. "With tri-fold improvements in footprint, efficiency and load regulation, the MTU1 truly deserves the accolade 'innovation cubed'." The latest design techniques and materials have been used to reduce the module's footprint while improving electrical performance characteristics. The MTU1 series' dimensions are 8.2 x 8.4 x 8.5 mm, representing a footprint reduction of 50% compared to the previous generation. Power density is 1.71 W/cm3 and the series features wide temperature performance at full 1 Watt load, between -40 and 85ºC. The series' load regulation has been enhanced to only 7.5%, a change of 40%. The DC-DC converter also features 56% less power dissipation and lower running temperatures than its predecessor, improving overall efficiency by more than a fifth to 89%. The increase in efficiency and benefit of reduction in power dissipation enables the series' open frame design. The greatly improved efficiency of the MTU1 series also contributes to its lower energy consumption and greater reliability. Eight models are currently available in the MTU1 series, featuring a choice of 5 or 12V input voltage and 5, 9, 12 or 15V output voltage. The modules each have a single output, isolated to 1kVDC. All are RoHS-compliant.
Ref. MPS 109A
Further editorial information from:
Amy Collins
Marketing Communications Manager
Murata Power Solutions
Tel: +1-508-964-5270
Contact details for publication:
Murata Power Solutions, Inc.,
129 Flanders Road
Westborough, MA 01581, USA
Tel: +1-508-339-3000
About Murata Power Solutions
Murata Power Solutions (www.murata-ps.com) is headquartered in Westborough, Massachusetts, with over 1,300 employees worldwide. Murata Power Solutions designs, manufactures and distributes DC-DC Converter, AC-DC Power Supply, Magnetic and Digital Panel Meter product lines, and offers these products in custom, standard and modified-standard variations. Murata Power Solutions. products are typically used within electronic applications serving major global market sectors including telecommunications, computing and industrial controls.
Murata Power Solutions is a division of Murata Manufacturing Co., Ltd., a worldwide leader in the design, manufacture and sale of electronic components and power supply modules. Murata's devices are found in a wide range of applications including consumer and automotive electronics, and wireless devices. The company has employees and manufacturing facilities throughout the world.