OKI-78SR : Additions to Murata Power Solutions' Okami™ PoL converter range feature ultra-wide input in compact package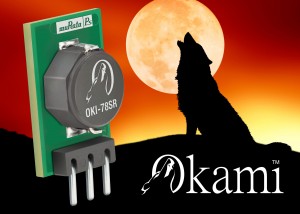 Murata Power Solutions has expanded its range of Okami™ non-isolated point-of-load (PoL) DC-DC converters with the introduction of the OKI-78SR series of switching regulator converters for industrial applications. A direct drop-in replacement for industry standard three-terminal 7803 and 7805 series LDOs, the series offers ultra-wide input voltage range (7 to 36VDC) for nominal 24Vin with either 3.3 or 5V output voltage, depending on the model. The OKI-78SR series offer efficiency levels up to 90.5%; a significant advantage over traditional LDO solutions. The OKI-78SR series' small footprint, vertical SIP-mount package is in industry standard TO-220 format, with dimensions of just 10.4 x 16.5mm, making these converters ideal for use in space-constrained applications. The converters can support up to 500uF ceramic load capacitance, helping to control output noise. Additional performance features include quick transient response to step loads, stable no-load operation and outstanding thermal derating performance over the operating temperature range (-40 to +85ºC). The converters' design incorporates under-voltage lockout, over-current and over-temperature protection. The new modules meet the requirements of UL/EN/IEC 60950-1 safety approvals and EMI/RFI certifications are available.
Ref. MPS098A
Further editorial information from:
Amy Collins
Marketing Communications Manager
Murata Power Solutions
Tel: +1-508-964-5270
Contact details for publication:
Murata Power Solutions, Inc.,
129 Flanders Road
Westborough, MA 01581, USA
Tel: +1-508-339-3000
About Murata Power Solutions
Murata Power Solutions (www.murata-ps.com) is headquartered in Westborough, Massachusetts, with over 1,300 employees worldwide. Murata Power Solutions designs, manufactures and distributes DC-DC Converter, AC-DC Power Supply, Magnetic and Digital Panel Meter product lines, and offers these products in custom, standard and modified-standard variations. Murata Power Solutions. products are typically used within electronic applications serving major global market sectors including telecommunications, computing and industrial controls.
Murata Power Solutions is a division of Murata Manufacturing Co., Ltd., a worldwide leader in the design, manufacture and sale of electronic components and power supply modules. Murata's devices are found in a wide range of applications including consumer and automotive electronics, and wireless devices. The company has employees and manufacturing facilities throughout the world.