OKI-T/3-W40 : Adjustable output 3Amp OKAMI™ PoL DC/DC converters ideal for 24V industrial applications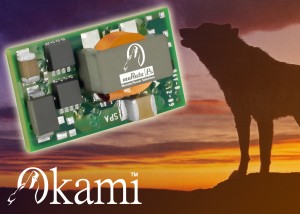 Murata Power Solutions has added a 3A output current surface mount series to its family of Okami™ non-isolated, DOSA compliant pinout, point-of-load (PoL) DC/DC converters. The OKI-T/3-W40 series is ideal for use 24VDC input range applications that require a low voltage DC source for powering FPGAs and microprocessors. The 15W maximum output power OKI-T/3-W40 series has a wide input range of 16VDC to 40VDC and a programmable output voltage of 0.75VDC to 5.5VDC. The new modules achieve high power conversion efficiency with excellent derating performance. The OKI-T/3-W40 series is able to drive up to 1000µF ceramic capacitors making it easy for users to keep ripple and noise under control. In addition to a wide voltage input range, the OKI-T/3-W40 series features on/off control, over-temperature, over-current, and under-voltage lock out (UVLO) protection. Overall dimensions of the new modules are 0.82in. (20.8mm) x 0.47in. (11.9mm) x 0.34in. (8.5mm) high. Operating temperature range is -40°C to +85°C. The new Okami OKI-T/3-W40 series of PoL DC/DC converters meets all standard UL/EN/IEC 60950-1 safety certifications and is compliant with RoHS-6 hazardous substance regulations.
Ref. MPS386A
Further editorial information from:
Amy Collins
Marketing Communications Manager
Murata Power Solutions
Tel: +1-508-964-5270
Contact details for publication:
Murata Power Solutions, Inc.,
129 Flanders Road
Westborough, MA 01581, USA
Tel: +1-508-339-3000
About Murata Power Solutions
Murata Power Solutions (www.murata-ps.com) is headquartered in Westborough, Massachusetts, with over 1,300 employees worldwide. Murata Power Solutions designs, manufactures and distributes DC-DC Converter, AC-DC Power Supply, Magnetic and Digital Panel Meter product lines, and offers these products in custom, standard and modified-standard variations. Murata Power Solutions. products are typically used within electronic applications serving major global market sectors including telecommunications, computing and industrial controls.
Murata Power Solutions is a division of Murata Manufacturing Co., Ltd., a worldwide leader in the design, manufacture and sale of electronic components and power supply modules. Murata's devices are found in a wide range of applications including consumer and automotive electronics, and wireless devices. The company has employees and manufacturing facilities throughout the world.