782482 : Low EMI converter transformers approved for use with Analog Devices' high speed transceivers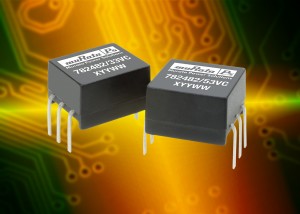 Murata Power Solutions has introduced a new series of converter transformers specifically designed for use with Analog Devices' ADM2482/7 transceiver chipsets used to provide isolated RS-485 and RS-422 interfaces. The 782482 series has carefully controlled turns ratios to ensure consistent performance while a toroidal construction helps minimize electromagnetic interference (EMI). Housed in an industry-standard, dual-in-line (DIL) package using UL94 V-0 materials, the low-profile 782482 series has overall dimensions of 0.385in. (9.77mm) x 0.360in. (9.14mm) x 0.25in. (6.35mm) high. Nominal input voltages are 3.3V for the 782482/33VC and 5.0V for the 782482/53VC; both models have a nominal output voltage of 3.3V and provide 4.0kVDC isolation. An industrial temperature range of -40°C to +85°C makes the 782482 series suitable for use in a wide range of applications. Both models are RoHS compliant and backward compatible with Sn/Pb soldering systems. Surface mount versions of the new converter transformers are under development. Analog Devices' ADM2482/7 are isolated data transceivers with ±15 kV ESD protection and are suitable for high speed, half-duplex or full-duplex communication on multipoint transmission lines. The devices employ the Analog Devices iCoupler® technology to combine a three-channel isolator, a three-state differential line driver, and a differential input receiver into a single package.
Ref. MPS392A
Further editorial information from:
Amy Collins
Marketing Communications Manager
Murata Power Solutions
Tel: +1-508-964-5270
Contact details for publication:
Murata Power Solutions, Inc.,
129 Flanders Road
Westborough, MA 01581, USA
Tel: +1-508-339-3000
About Murata Power Solutions
Murata Power Solutions (www.murata-ps.com) is headquartered in Westborough, Massachusetts, with over 1,300 employees worldwide. Murata Power Solutions designs, manufactures and distributes DC-DC Converter, AC-DC Power Supply, Magnetic and Digital Panel Meter product lines, and offers these products in custom, standard and modified-standard variations. Murata Power Solutions. products are typically used within electronic applications serving major global market sectors including telecommunications, computing and industrial controls.
Murata Power Solutions is a division of Murata Manufacturing Co., Ltd., a worldwide leader in the design, manufacture and sale of electronic components and power supply modules. Murata's devices are found in a wide range of applications including consumer and automotive electronics, and wireless devices. The company has employees and manufacturing facilities throughout the world.