MER1 : 1W single output DC/DC converter series combines excellent regulation and efficiency performance in an industry-standard package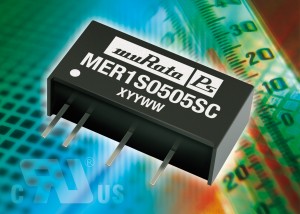 Murata Power Solutions has introduced a new series of high performance isolated 1W single output DC/DC converters that offer high efficiency levels and full-load performance across the industrial temperature range. The MER1 series provides excellent regulation for applications such as providing local power on control system boards and other applications where wide output voltage variations cannot be tolerated. The comprehensive MER1 range offers designers a choice of five input voltages ranging from 5V to 48V and output voltages of 5V, 9V, 12V or 15V. Typical efficiency levels are up to 89% and operating temperature range is -40°C to +85°C. Galvanic isolation of 1kVDC helps to reduce switching noise. Housed in a compact industry-standard pinout package measuring 19.65mm (0.774in.) x 6.15mm (0.242in.) x 10.15mm (0.4in.), the new DC/DC converters are RoHS compliant and utilise UL 94V-0 package materials. The fully encapsulated design uses toroidal magnetic technology and requires no external components. The space saving benefits of the MER1 series are further enhanced as no external heatsinking or tantalum and electrolytic capacitors are required. Lead-times are from stock to 10 weeks.
Ref. MPS396A
Further editorial information from:
Amy Collins
Marketing Communications Manager
Murata Power Solutions
Tel: +1-508-964-5270
Contact details for publication:
Murata Power Solutions, Inc.,
129 Flanders Road
Westborough, MA 01581, USA
Tel: +1-508-339-3000
About Murata Power Solutions
Murata Power Solutions (www.murata-ps.com) is headquartered in Westborough, Massachusetts, with over 1,300 employees worldwide. Murata Power Solutions designs, manufactures and distributes DC-DC Converter, AC-DC Power Supply, Magnetic and Digital Panel Meter product lines, and offers these products in custom, standard and modified-standard variations. Murata Power Solutions. products are typically used within electronic applications serving major global market sectors including telecommunications, computing and industrial controls.
Murata Power Solutions is a division of Murata Manufacturing Co., Ltd., a worldwide leader in the design, manufacture and sale of electronic components and power supply modules. Murata's devices are found in a wide range of applications including consumer and automotive electronics, and wireless devices. The company has employees and manufacturing facilities throughout the world.