OKX & OKY T/10 & T/16 W5 : Okami™ PoL DC/DC converter family offers an even wider choice with addition of 10A and 16A SMT and SIP modules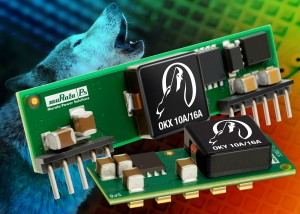 The Okami range of non-isolated Point-of-Load (PoL) DC/DC power converters from Murata Power Solutions has been expanded with the addition of 10A and 16A models in both surface mount (SMT) and through-hole SIP formats. The new modules are fully compatible with DOSA specifications and support the latest generation FPGAs, ASICs and DSPs that require high load currents in low input voltage environments. The 10A and 16A Okami OKY (SMT) and OKX (SIP) series accept an input voltage range of 2.4VDC to 5.5VDC.  All models have a programmable output voltage from 0.7525V to 3.63VDC. The new devices are based on a fixed-frequency synchronous buck converter switching topology to deliver high power conversion efficiency with exceptional thermal derating performance.  Operating temperature range is –40ºC to +85ºC. Able to drive up to 1000µF ceramic capacitive loads, Okami OKY and OKX 10A and 16A DC/DC converters are available with either positive or negative on/off control. They can also be specified with or without the sequence / tracking feature. All models supports under voltage lock out (UVLO), output short-circuit protection, over-current and over-temperature protections. Overall dimensions of the surface-mount OKY modules are 33.0mm x 13.5mm x 8.4mm (1.3in. x 0.53in. x 0.33in.) and the thru-hole OKX measures 50.8mm x 12.7mm x 9.4mm (2.0in. x 0.5in. x 0.37in.). All of the new models are designed to meet the requirements of UL/EN/IEC 60950-1 safety and are RoHS-6 compliant. Delivery is from stock to 8 weeks.
Ref. MPS371A
Further editorial information from:
Amy Collins
Marketing Communications Manager
Murata Power Solutions
Tel: +1-508-964-5270
Contact details for publication:
Murata Power Solutions, Inc.,
129 Flanders Road
Westborough, MA 01581, USA
Tel: +1-508-339-3000
About Murata Power Solutions
Murata Power Solutions (www.murata-ps.com) is headquartered in Westborough, Massachusetts, with over 1,300 employees worldwide. Murata Power Solutions designs, manufactures and distributes DC-DC Converter, AC-DC Power Supply, Magnetic and Digital Panel Meter product lines, and offers these products in custom, standard and modified-standard variations. Murata Power Solutions. products are typically used within electronic applications serving major global market sectors including telecommunications, computing and industrial controls.
Murata Power Solutions is a division of Murata Manufacturing Co., Ltd., a worldwide leader in the design, manufacture and sale of electronic components and power supply modules. Murata's devices are found in a wide range of applications including consumer and automotive electronics, and wireless devices. The company has employees and manufacturing facilities throughout the world.