Compact DC-DC converter for harsh Railway and Industrial conditions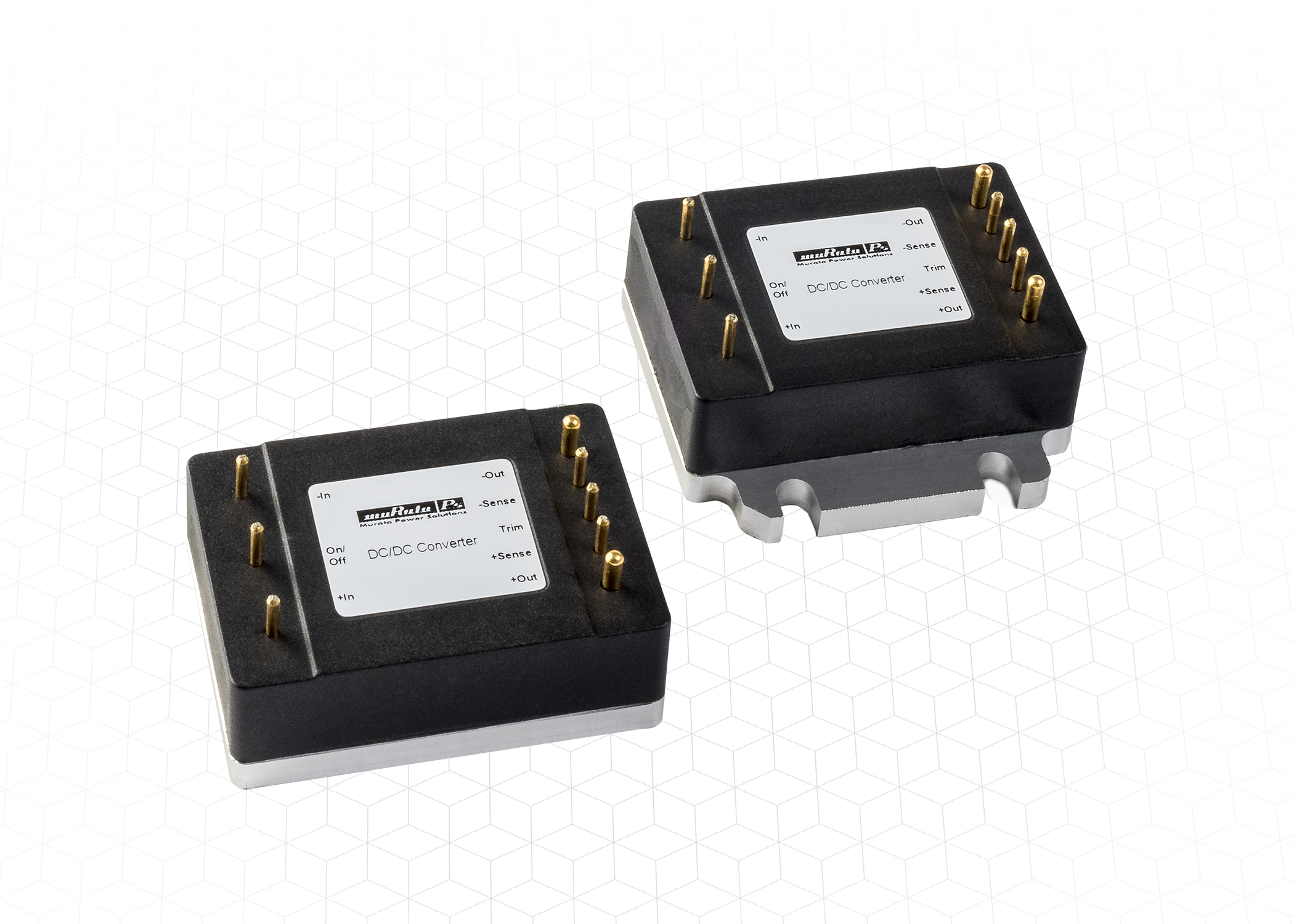 Murata today announced the launch of the IRS-Q12 series, its latest encapsulated 1/16th brick DC-DC converter from Murata Power Solutions. The board mount power module incorporates advanced assembly techniques, 2250Vdc isolation with a basic insulation system, and an industry leading efficiency. Additionally, the high reliability, safety features, and optional packaging configurations offer an unmatched level of performance in harsh environmental conditions.
The 50 Watt IRS-Q12 has an input voltage range of 9-36Vdc, expanding on the 18-75Vdc that the previously released IRS-Q48 series offers. The new line includes module variations of 3.3V, 5V, 12V, 15V, and 24Vdc with up to 50W of output power. Further, the Vin range of 9-36Vdc meets the requirements of EN50155 for Nominal Vin of 24/28Vdc, including Brown Out and Transient conditions, in addition to serving industrial applications with a nominal 12Vin.
The series is available with a standard or flanged baseplate to allow for various conduction cooling configurations. Other notable features include on/off control with positive or negative logic, short circuit protection, as well as over-voltage and over-temperature protection. The IRS-Q12 topology also supports a pre-biased output at start-up to eliminate reverse currents that can potentially damage critical circuitry. These benefits make it ideally suited for demanding railway, industrial, lighting, smart grid, and other harsh environment applications with system bus voltages between 9Vdc and 36Vdc.
"The IRS-Q12 represents an industry-leading combination of architectural design, component selection, package design, and assembly techniques that are proprietary to Murata. The result is a solution that enables the highest performance and reliability available on the market today," said John Quinlan, Senior Product Marketing Manager, Murata Power Solutions.
Further editorial information from:
Amy Collins
Marketing Communications Manager
Murata Power Solutions
Tel: +1-508-964-5270
Contact details for publication:
Murata Power Solutions, Inc.,
129 Flanders Road
Westborough, MA 01581, USA
Tel: +1-508-339-3000
About Murata Power Solutions
Murata Power Solutions (www.murata-ps.com) is headquartered in Westborough, Massachusetts, with over 1,300 employees worldwide. Murata Power Solutions designs, manufactures and distributes DC-DC Converter, AC-DC Power Supply, Magnetic and Digital Panel Meter product lines, and offers these products in custom, standard and modified-standard variations. Murata Power Solutions. products are typically used within electronic applications serving major global market sectors including telecommunications, computing and industrial controls.
Murata Power Solutions is a division of Murata Manufacturing Co., Ltd., a worldwide leader in the design, manufacture and sale of electronic components and power supply modules. Murata's devices are found in a wide range of applications including consumer and automotive electronics, and wireless devices. The company has employees and manufacturing facilities throughout the world.