PMBus 600W DOSA Compliant, Digital 1/4 Brick DC-DC Converter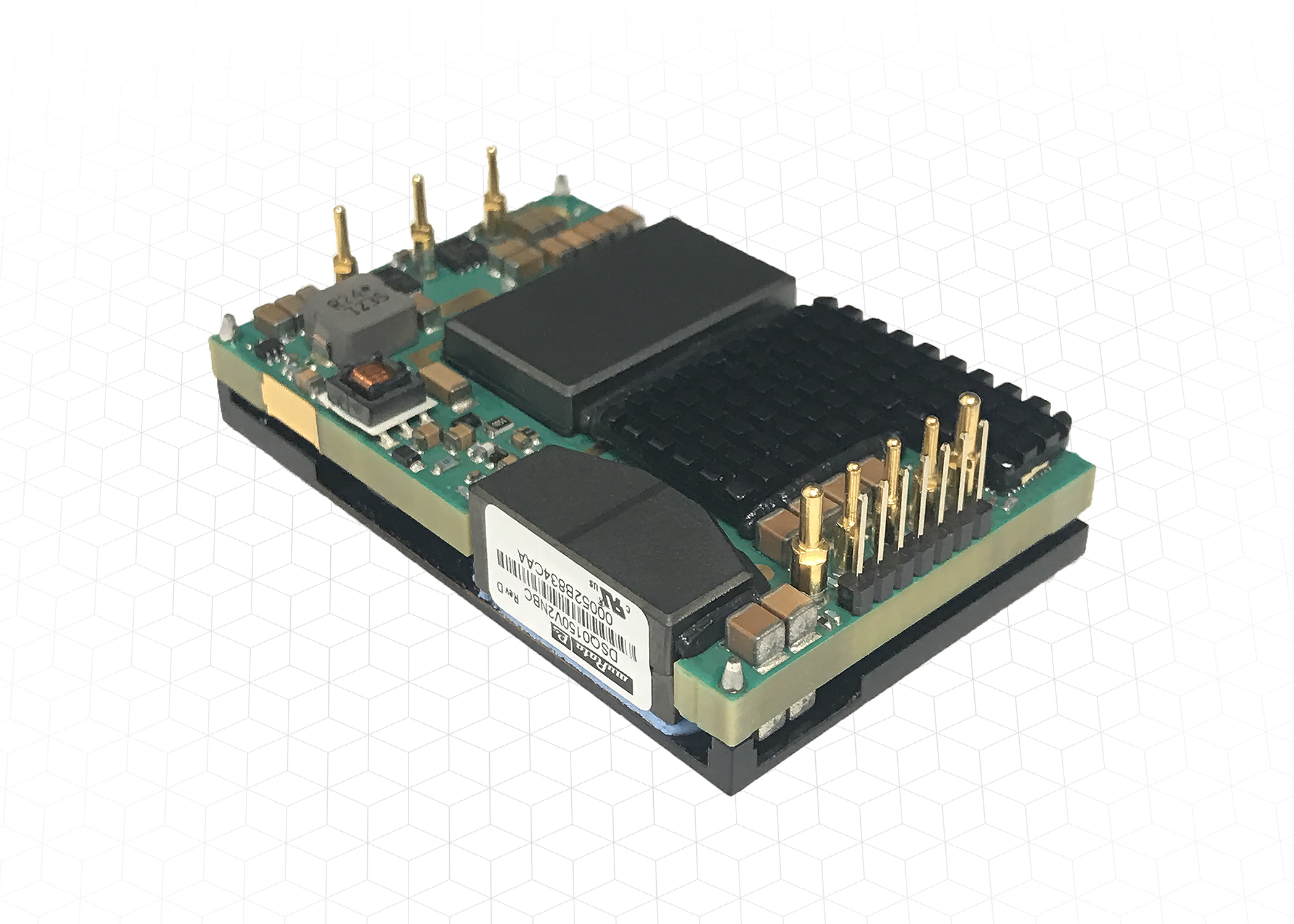 Murata has launched a series of 600W, DOSA compliant, 12V output, digital quarter-brick DC-DC converters from Murata Power Solutions. The series was designed for high reliability applications based on a 32-bit ARM processor that supports the latest PMBus commands for digital control and telemetry functions.  The DSQ, DCQ and DAQ converters support the full 'TNV' input range of 36 – 75V, with a typical efficiency of 96 % @ full load 48Vin.
The series is designed to support droop mode current sharing of multiple modules for increased power output with tight load sharing.  I/O Isolation is 2250 VDC, with a functional insulation system and it carries the UL/CSA safety agency approvals. Options for these modules include a digital interface supporting the latest PMBus command set, parallel load sharing, positive or negative on/off logic, along with options for standard "analog" DOSA pinout and a 5pin Bus Converter pinout. Application examples include, telecommunications networking equipment, computing equipment, wireless base stations, PoE systems, MicroTCA, fan trays and test equipment.
The DSQ model includes a PMBus interface that provides a means (I2C Bus) to configure output voltage, soft start parameters, input and output over-voltage protection limits, input under-voltage lockout, current limit and thermal shutdown.  Telemetry functions include output voltage and current, input voltage and temperature, as well as indications for 'power good' and on/off status. The heart of the module is a 32-bit processor controlling all functions and parameters. To support the PMBus, Murata Power Solutions is offering an optional evaluation board that is supported by downloadable software with a user-friendly GUI. The evaluation boards and a GUI manual are available upon request.
The DSQ modules are designed, tested and qualified according to the industry standard IPC9592 for reliability requirements. Electrical performance is state-of-the-art starting with an efficiency rating of 96% with 600W output power @ 55°C with no heat sink, output Pre-Bias protection under all conditions, tight line & load regulation, low output ripple & noise and fast load transient response, all packaged into an industry standard DOSA quarter brick format. All variants include a baseplate for optimal thermal performance that also provides a surface for mounting an additional heat sink for extreme temperature applications. Safety certifications include UL/EN/IEC 60950-1 and CAN/CSA-C22.2 No 60950-1 2nd edition and the parts are compliant with EN55022/CISPR22 EMC standards with minimal input filtering.
"Murata Power Solutions is proud to offer the 600W DOSA ¼ brick series to power systems architects around the world. The high reliability design and manufacturing process and advanced digital control platform with Murata's proprietary firmware provides the power system designer the tools for the next generation, high performance systems." said Bill Smith, Director of Product Management, Murata Power Solutions.
Further editorial information from:
Amy Collins
Marketing Communications Manager
Murata Power Solutions
Tel: +1-508-964-5270
Contact details for publication:
Murata Power Solutions, Inc.,
129 Flanders Road
Westborough, MA 01581, USA
Tel: +1-508-339-3000
About Murata Power Solutions
Murata Power Solutions (www.murata-ps.com) is headquartered in Westborough, Massachusetts, with over 1,300 employees worldwide. Murata Power Solutions designs, manufactures and distributes DC-DC Converter, AC-DC Power Supply, Magnetic and Digital Panel Meter product lines, and offers these products in custom, standard and modified-standard variations. Murata Power Solutions. products are typically used within electronic applications serving major global market sectors including telecommunications, computing and industrial controls.
Murata Power Solutions is a division of Murata Manufacturing Co., Ltd., a worldwide leader in the design, manufacture and sale of electronic components and power supply modules. Murata's devices are found in a wide range of applications including consumer and automotive electronics, and wireless devices. The company has employees and manufacturing facilities throughout the world.