MEV3 : Single output isolated DC/DC converters offer 3W output in a 2W form factor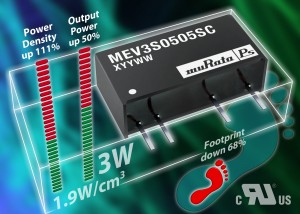 FR | DE | CN | JP Murata Power Solutions has introduced a new range of isolated single output DC/DC converters that achieve industry leading power density, efficiency and regulation. Devices from the MEV3 series offer 3W of available output power in a previously rated 2W package to give designers potential board space savings of up to 68%. Supplied in an industry standard SIP package with overall dimensions of 0.774in. (19.65mm) x 0.301in. (7.65mm) x 0.4in. (10.15mm), the MEV3 series is ideally suited to providing local supplies on control system boards. The fully encapsulated UL 94V-0-rated design uses toroidal magnetics and requires no external heatsinking or components helping to simplify implementation in new designs and reduce overall Bill of Materials costs. The MEV3 series has a typical efficiency level of 83% and offers a choice of input voltages of either 5V or 12V and single output voltages of 5V, 9V, 12V or 15V. All models in the range have a wide operating temperature range of -40°C to +85°C at full 3W load and have the added benefit of 3kVDC galvanic isolation (1 minute). Power density is 1.9W/cm3 offering a significant improvement compared to the previous industry standard 3W power density of 0.9W/cm3. Industry standard pinout MEV3 DC/DC converters provide a pin compatible power upgrade path from Murata Power Solutions' 1W NMV/MEV and 2W NMK series'. UL 60950 recognition is pending for all models in the range.
Ref. MPS344A
Further editorial information from:
Amy Collins
Marketing Communications Manager
Murata Power Solutions
Tel: +1-508-964-5270
Contact details for publication:
Murata Power Solutions, Inc.,
129 Flanders Road
Westborough, MA 01581, USA
Tel: +1-508-339-3000
About Murata Power Solutions
Murata Power Solutions (www.murata-ps.com) is headquartered in Westborough, Massachusetts, with over 1,300 employees worldwide. Murata Power Solutions designs, manufactures and distributes DC-DC Converter, AC-DC Power Supply, Magnetic and Digital Panel Meter product lines, and offers these products in custom, standard and modified-standard variations. Murata Power Solutions. products are typically used within electronic applications serving major global market sectors including telecommunications, computing and industrial controls.
Murata Power Solutions is a division of Murata Manufacturing Co., Ltd., a worldwide leader in the design, manufacture and sale of electronic components and power supply modules. Murata's devices are found in a wide range of applications including consumer and automotive electronics, and wireless devices. The company has employees and manufacturing facilities throughout the world.