OKL-T/3-W12 : New OKL series 12Vin, 3A output current PoL DC/DC converters feature inspectable LGA (iLGA) surface mount package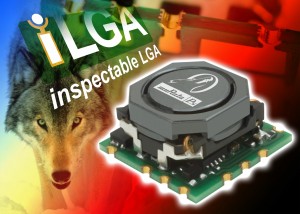 EN
|
FR
|
DE
|
CN
|
JP
The latest addition to the Okami™ family of non-isolated point-of-load (PoL) DC/DC converters from Murata Power Solutions, the OKL range, features the inspectable Land Grid Array (iLGA) package. The iLGA package, utilised on the new OKL-T/3-W12 series, features small plated cutouts (castellations) that allow probing and visual inspection of all signal pads which is not possible with conventional LGA configurations. The iLGA package enables excellent heat management characteristics, wherein the large copper pads provide a very low thermal impedance path between the module and the board onto which it is mounted. The OKL-T/3-W12 series comprises two models to give designers a choice of either positive or negative On/Off logic. The compact modules have a nominal 12V (4.5V to 14V) input and a maximum output current of 3A. In common with all previously announced Okami products, the OKL-T/3-W12 series uses the latest industry accepted standard pad layout for interconnects. A combination of extremely high power density and a small footprint of just 12.2mm x 12.2mm makes the new modules especially useful in designs where board space is limited. The OKL-T/3-W12 series has a programmable output voltage range of 0.591V to 5.5V which is user-selected via an external resistor. These new modules are able to drive ceramic capacitive loads up to 200µF, and overall efficiency is up to 93%. They also feature 600kHz switching frequency, which offers the potential for improved transient response with reduction of output capacitance. Murata Power Solutions offers simulation tools for its Okami modules that allow engineers to evaluate the PoL behaviour as if the actual model were in their application. The tools do not require SPICE knowledge and can help simplify and speed selection of the most appropriate Okami PoL for a given application. The OKL-T/3-W12 series is RoHS-compliant and designed to meet UL/EN/IEC 60950-1 safety approvals and FCC emissions certifications. Operating temperature range is -40°C to +85°C.
Ref. MPS373A
Further editorial information from:
Amy Collins
Marketing Communications Manager
Murata Power Solutions
Tel: +1-508-964-5270
Contact details for publication:
Murata Power Solutions, Inc.,
129 Flanders Road
Westborough, MA 01581, USA
Tel: +1-508-339-3000
About Murata Power Solutions
Murata Power Solutions (www.murata-ps.com) is headquartered in Westborough, Massachusetts, with over 1,300 employees worldwide. Murata Power Solutions designs, manufactures and distributes DC-DC Converter, AC-DC Power Supply, Magnetic and Digital Panel Meter product lines, and offers these products in custom, standard and modified-standard variations. Murata Power Solutions. products are typically used within electronic applications serving major global market sectors including telecommunications, computing and industrial controls.
Murata Power Solutions is a division of Murata Manufacturing Co., Ltd., a worldwide leader in the design, manufacture and sale of electronic components and power supply modules. Murata's devices are found in a wide range of applications including consumer and automotive electronics, and wireless devices. The company has employees and manufacturing facilities throughout the world.