1200RS & 1200LRS : Shielded inductors provide a power line filtering solution in applications with EMI susceptibility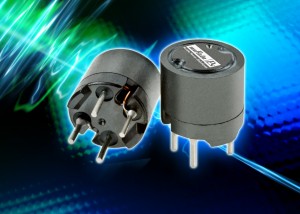 EN
|
FR
|
DE
|
CN
|
JP
The new 1200RS and 1200LRS series of inductors from Murata Power Solutions are ideal for providing power line filtering in low to medium current applications such as switching power supply circuits. An integral ferrite shield makes them especially useful in designs that are susceptible to electromagnetic interference (EMI). The through hole, radial leaded devices have compact overall dimensions of 10.5mm diameter x 8.5mm that support their inclusion in designs where PCB space is limited. The 1200LRS series is available with inductance values ranging from 6.8µH to 22mH and DC current ratings up to 4.7A IDC. The 1200RS series offers higher current versions with the same footprint. Inductance values extend from 10µH to 1mH and maximum current ratings to 4.6A IDC. All parts have a low DC resistance to help maximise efficiency. Operating temperature range of the 1200RS and LRS series is -40°C to +85°C. The new devices use UL 94V-0 approved materials, are fully RoHS compliant, and have backward compatibility with Sn/Pb soldering systems.
Ref. MPS359A
Further editorial information from:
Amy Collins
Marketing Communications Manager
Murata Power Solutions
Tel: +1-508-964-5270
Contact details for publication:
Murata Power Solutions, Inc.,
129 Flanders Road
Westborough, MA 01581, USA
Tel: +1-508-339-3000
About Murata Power Solutions
Murata Power Solutions (www.murata-ps.com) is headquartered in Westborough, Massachusetts, with over 1,300 employees worldwide. Murata Power Solutions designs, manufactures and distributes DC-DC Converter, AC-DC Power Supply, Magnetic and Digital Panel Meter product lines, and offers these products in custom, standard and modified-standard variations. Murata Power Solutions. products are typically used within electronic applications serving major global market sectors including telecommunications, computing and industrial controls.
Murata Power Solutions is a division of Murata Manufacturing Co., Ltd., a worldwide leader in the design, manufacture and sale of electronic components and power supply modules. Murata's devices are found in a wide range of applications including consumer and automotive electronics, and wireless devices. The company has employees and manufacturing facilities throughout the world.