OKY-T/10 &T/16-D12 : New 12V input SMT modules added to OKAMI™ family of DOSA-compliant PoL DC/DC converters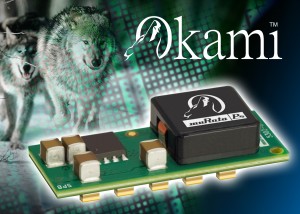 EN
|
FR
|
DE
|
CN
|
JP
Murata Power Solutions has added eight new 12V input models to its DOSA compliant OkamiT range of non-isolated point-of-load (PoL) DC/DC converters. The latest additions comprise four 10A and four 16A output current surface mount (SMT) modules that provide an ideal drop-in replacement for other DOSA-compliant parts in space constrained designs that require high density, high efficiency power solutions. All OKY-T10 and -T16 modules are available with either positive or negative on/off logic control. The OKY2-T10 and OKY2-T16 models offer the same choice but also feature a sequence/tracking function wherein the output voltage will track an input signal to enable power sequencing. Common to all models is a wide input voltage range of 8.3VDC to 14VDC and a programmable, output voltage from 0.75V to 5.5VDC, which simplify the inclusion of these modules into a wide range of equipment designs. Typical applications include any system using latest generation IC's such as DSP, FPGA and ASIC. The new OKAMI modules achieve high power conversion efficiency of up to 94.5%, have outstanding thermal derating performance and are able to support up to 1000µF ceramic output capacitance. The compact design incorporates over-temperature and short-circuit protection features with pre-bias immunity. Operating temperature range is -40°C to +85°C and the modules have dimensions of 33mm (1.30in.) x 13.5mm (0.53in.) x 8.4mm (0.33in.). The modules are designed to meet UL/EN/IEC 60950-1 safety approvals and FCC emissions certifications.
About Okami
Okami, Japanese for "wolf", is a registered CTM trademark and may be a registered trademark in certain other countries for Murata Power Solutions' new breed of DOSA PoL DC/DC converters. For more information on the Okami family, please visit 
www.murata-ps.com/okami
Ref. MPS372A
Further editorial information from:
Amy Collins
Marketing Communications Manager
Murata Power Solutions
Tel: +1-508-964-5270
Contact details for publication:
Murata Power Solutions, Inc.,
129 Flanders Road
Westborough, MA 01581, USA
Tel: +1-508-339-3000
About Murata Power Solutions
Murata Power Solutions (www.murata-ps.com) is headquartered in Westborough, Massachusetts, with over 1,300 employees worldwide. Murata Power Solutions designs, manufactures and distributes DC-DC Converter, AC-DC Power Supply, Magnetic and Digital Panel Meter product lines, and offers these products in custom, standard and modified-standard variations. Murata Power Solutions. products are typically used within electronic applications serving major global market sectors including telecommunications, computing and industrial controls.
Murata Power Solutions is a division of Murata Manufacturing Co., Ltd., a worldwide leader in the design, manufacture and sale of electronic components and power supply modules. Murata's devices are found in a wide range of applications including consumer and automotive electronics, and wireless devices. The company has employees and manufacturing facilities throughout the world.