Highly efficient DC/DC converter for telecom applications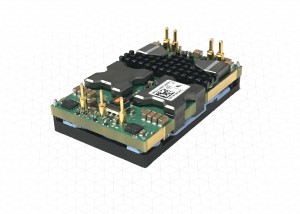 Murata has announced the 1 kW DRQ-11.4/88-L48 Series of quarter brick, intermediate bus, DC/DC converter modules that address the growing power requirements of high-reliability networking and telecommunications infrastructure equipment. The fully regulated DRQ-11.4/88-L48xx Series provides 11.4Vout at 88 A, with a Vin Range of 36 to 60Vdc, operating from 48Vdc battery systems or networking equipment that operates at 54Vin.This fully regulated, fixed frequency, 1 kW rated bus converter boasts an industry leading efficiency level of 97%. Developed by Murata Power Solutions to the industry standard DOSA high power 1/4 brick specification, the DRQ-11.4/88-L48xx DC-DC converter modules are available with many standard features and options including parallel load sharing of two or more modules, pre-bias protection, positive or negative on/off logic options, short circuit protection, over current/voltage and over temperature protection. The DRQ-11.4/88-L48 Series supports pre-biased start-up, eliminating reverse current issues during system start and shutdown. Safety rated for networking and telecommunications applications; the fully isolated modules provide 1,500 Vdc of Input / Output isolation with an operational insulation safety rating. In order to provide industry leading reliability the DRQ-11.4/88-L48 Series is designed and tested to meet the industry requirements of IPC-9592 Revision B.The converters' integrated baseplate design enhances thermal performance and its 97% efficiency promotes cooler operation for reliability and longevity. The primary applications for Murata's DRQ-11.4/88-L48 are networking and telecommunications infrastructure equipment, communications equipment, network security, routers, wireless base stations, telecommunications switches and electronics, computing equipment and other applications requiring power conversion to an intermediate bus voltage of 11.4 V.
Further editorial information from:
Amy Collins
Marketing Communications Manager
Murata Power Solutions
Tel: +1-508-964-5270
Contact details for publication:
Murata Power Solutions, Inc.,
129 Flanders Road
Westborough, MA 01581, USA
Tel: +1-508-339-3000
About Murata Power Solutions
Murata Power Solutions (www.murata-ps.com) is headquartered in Westborough, Massachusetts, with over 1,300 employees worldwide. Murata Power Solutions designs, manufactures and distributes DC-DC Converter, AC-DC Power Supply, Magnetic and Digital Panel Meter product lines, and offers these products in custom, standard and modified-standard variations. Murata Power Solutions. products are typically used within electronic applications serving major global market sectors including telecommunications, computing and industrial controls.
Murata Power Solutions is a division of Murata Manufacturing Co., Ltd., a worldwide leader in the design, manufacture and sale of electronic components and power supply modules. Murata's devices are found in a wide range of applications including consumer and automotive electronics, and wireless devices. The company has employees and manufacturing facilities throughout the world.