IRH DC-DC converters are ideal for industrial and rail applications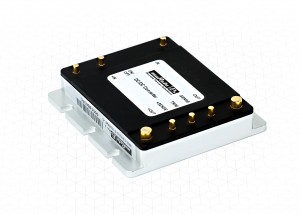 Murata launches its latest encapsulated DC-DC converters, designed specifically for use in industrial and railway applications. The 150 Watt IRH series from Murata Power Solutions provides market-leading power conversion efficiency, in an industry-standard half-brick pinout, using the latest component and packaging technologies in a fixed-frequency switching power supply architecture. Murata's 150 Watt IRH series converter modules have been designed and tested to meet the requirements of EN50155. To improve thermal management, the IRH series is available with standard and flanged baseplate options, and with DOSA or alternate industry standard pinout options. The modules' encapsulated circuit design makes them shock- and vibration-tolerant, with lower EMI and improved thermal performance. With these features, the IRH series from Murata Power Solutions offers the user flexibility and reliability in design implementation. The IRH series provide a wide 3:1 Vin range of 57.6V to 160 Vdc that meet the requirements of the EN50155 standard for railway applications for a nominal Vin of 96 Vdc and 110 Vdc, including brownout and transient conditions. Standard features include on/off logic control and protection against short circuits, overvoltage and over-temperature. The IRH topology supports a pre-biased output at start-up, eliminating the reverse currents during system start and shutdown that can damage critical circuitry. The IRH DC-DC converters are designed for demanding applications in the industrial, railway, power - grid and transportation industries. Within these industries, specific applications include, networking equipment for mobile platforms, intermediate bus applications, smart grid communications equipment, lighting, fan trays, industrial and test equipment, and other applications requiring a regulated 5, 12 or 24 Vdc source. The galvanically isolated DC-DC converter modules provide reinforced input to output isolation with a withstand voltage of 3 kVrms. Modules with outputs of 5 Vdc at 30 A, 12 Vdc at 12.5 A and 24 Vdc at 6.25 A are available, each able to deliver up to 150 Watts of power. The modules efficiency ratings of 91% at 5 Vout, 89.5% at 12 Vout and 89% at 24 Vout put them at the top of the industry for efficiency ratings. To accompany the modules an Evaluation Board is also available to allow users to test the parameters and specifications of the module either internally or externally to the application.
Further editorial information from:
Amy Collins
Marketing Communications Manager
Murata Power Solutions
Tel: +1-508-964-5270
Contact details for publication:
Murata Power Solutions, Inc.,
129 Flanders Road
Westborough, MA 01581, USA
Tel: +1-508-339-3000
About Murata Power Solutions
Murata Power Solutions (www.murata-ps.com) is headquartered in Westborough, Massachusetts, with over 1,300 employees worldwide. Murata Power Solutions designs, manufactures and distributes DC-DC Converter, AC-DC Power Supply, Magnetic and Digital Panel Meter product lines, and offers these products in custom, standard and modified-standard variations. Murata Power Solutions. products are typically used within electronic applications serving major global market sectors including telecommunications, computing and industrial controls.
Murata Power Solutions is a division of Murata Manufacturing Co., Ltd., a worldwide leader in the design, manufacture and sale of electronic components and power supply modules. Murata's devices are found in a wide range of applications including consumer and automotive electronics, and wireless devices. The company has employees and manufacturing facilities throughout the world.