New NMUSB2022PMC combines isolated data communication and power in one module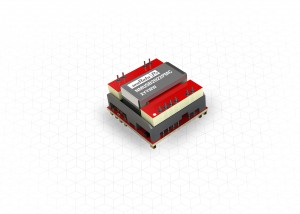 Murata announces the introduction of the NMUSB2022PMC, a surface mount powered data isolator module that conveniently provides dual port USB data and power isolation from a single upstream port. When used in conjunction with a USB host, a single NMUSB202PMC module counts as two USB hubs for cascaded applications and provides full 5V/500mA power to each downstream port. 250VRMS reinforced isolation provides safety, immunity to EMI, and breaking of ground loops.
Features
• Fully compliant with USB 2.0 specification, which enables hassle-free, "plug and play" operation with any USB-compatible device • Surface mount package for placement on host motherboard • Automatic switching between full-speed (12Mbps) and low speed (1.5Mbps) operation • Operating temperature range from -40°C to +85°C • UL60950 pending for reinforced insulation 250VAC • ANSI/AAMI ES60601-1, 2 x MOOPs and 2 x MOPPs safety recognition pending for 250VAC
Benefits
• Enables USB isolation function with a single SMT component • Users may power any USB compatible device from the NMUSB module • Data isolation function included with the DC-DC module adds value and convenience to the user • Ease of system approval for medical systems safety approval
Applications
• Industrial control for isolating sensors • Medical environments, where USB is becoming common for low cost sensing and communication but isolation is necessary for safety and noise immunity • Harsh environment data communication • Sensor communications
Further editorial information from:
Amy Collins
Marketing Communications Manager
Murata Power Solutions
Tel: +1-508-964-5270
Contact details for publication:
Murata Power Solutions, Inc.,
129 Flanders Road
Westborough, MA 01581, USA
Tel: +1-508-339-3000
About Murata Power Solutions
Murata Power Solutions (www.murata-ps.com) is headquartered in Westborough, Massachusetts, with over 1,300 employees worldwide. Murata Power Solutions designs, manufactures and distributes DC-DC Converter, AC-DC Power Supply, Magnetic and Digital Panel Meter product lines, and offers these products in custom, standard and modified-standard variations. Murata Power Solutions. products are typically used within electronic applications serving major global market sectors including telecommunications, computing and industrial controls.
Murata Power Solutions is a division of Murata Manufacturing Co., Ltd., a worldwide leader in the design, manufacture and sale of electronic components and power supply modules. Murata's devices are found in a wide range of applications including consumer and automotive electronics, and wireless devices. The company has employees and manufacturing facilities throughout the world.