Murata releases new 1W regulated SMT DC-DC converter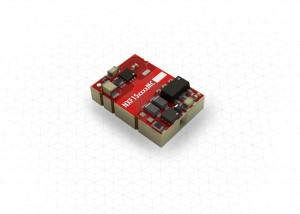 Murata has expanded its product range of embedded-core technology DC-DC converters with the NXF1 series, a cost effective, fully regulated, high isolation converter with 3.3 V or 5 V outputs from Murata Power Solutions. Inputs available are nominal 3.3 V and 5 V in an industry-standard surface-mount package with a uniquely low profile. Line regulation is typically better than 0.03 % and load regulation typically better than 0.5 %. All parts have continuous short circuit protection with auto re-start or latch-off depending on model and temperature. Input range is +/-5 % around the nominals of 3.3 V and 5 V. Parts are 100% production tested to 3kVDC and have agency recognition pending for 'basic' protection at 250 Vrms and 'reinforced' protection at 125 Vrms to UL60950. Medical recognition to ANSI/AAMI ES 60601-1 is also pending for 2 MOOPs (Means Of Operator Protection) and 1 x MOPP (Means Of Patient Protection) at 125 Vrms and 1 MOOP (Means Of Operator Protection) based upon a working voltage of 250 Vrms max, between Primary and Secondary. Typical applications for these converters are in systems where agency-recognized isolation is required with tight output regulation as is needed in power for remote pressure, hall-effect, mass airflow and other sensors. Markets addressed include alternative energy/solar power, transportation, telecom/wireless equipment and medical. "The NXF1 series is an exciting new product which builds on our unique embedded magnetic core technology giving our customers great electrical and isolation performance with hassle-free placement at a competitive price" said Ann-Marie Bayliss, Product Manager, Murata Power Solutions The NXF1 series is rated at -40° to +105° C with derating depending on model and provides high reliability with its patented embedded-core technology which makes production fully automatic yielding a cost-effective product with excellent performance repeatability. Packaging is the industry-standard footprint for SMT 1W converters in the Murata proprietary iLGA inspectable format with gold plated terminations. Height is an industry-leading 5.01 mm maximum including tolerances. Parts are fully compatible with Pb-free soldering and are backwards-compatible with Sn/Pb systems and can be mounted in accordance with J-STD-020 with a classification temperature of 260 degrees C and Moisture Sensitivity Level (MSL) 2.
Further editorial information from:
Amy Collins
Marketing Communications Manager
Murata Power Solutions
Tel: +1-508-964-5270
Contact details for publication:
Murata Power Solutions, Inc.,
129 Flanders Road
Westborough, MA 01581, USA
Tel: +1-508-339-3000
About Murata Power Solutions
Murata Power Solutions (www.murata-ps.com) is headquartered in Westborough, Massachusetts, with over 1,300 employees worldwide. Murata Power Solutions designs, manufactures and distributes DC-DC Converter, AC-DC Power Supply, Magnetic and Digital Panel Meter product lines, and offers these products in custom, standard and modified-standard variations. Murata Power Solutions. products are typically used within electronic applications serving major global market sectors including telecommunications, computing and industrial controls.
Murata Power Solutions is a division of Murata Manufacturing Co., Ltd., a worldwide leader in the design, manufacture and sale of electronic components and power supply modules. Murata's devices are found in a wide range of applications including consumer and automotive electronics, and wireless devices. The company has employees and manufacturing facilities throughout the world.