ACA-20RM-ALM : True-rms AC Ammeters feature user-settable over current alarm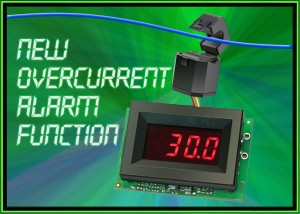 EN
|
FR
|
DE
|
CN
|
JP
Murata Power Solutions has introduced a new series of digital AC ammeters with alarm for the measurement and display of complex, true-rms, non-sinusoidal AC currents. The ACA-20RM-ALM AC Ammeters are completely self-contained and include a built-in current transformer to simplify their use in numerous applications. The integral alarm is triggered when the user-settable over current value is exceeded. The red LED display continually flashes from low to high intensity to indicate an alarm condition. Ideal for measuring currents in sensitive IT and telecom equipment, the ACA-20RM-ALM series comprises two models providing an input range choice of either 0 to 30A or 0 to 50A. Both have a resolution of 0.1A and the 50A model features a convenient split core type current transformer that can be easily clamped around insulated live conductors. Two 50/60Hz AC power supply options are available, giving customers a choice of either 85 to 140VAC (nominally 120VAC) or 170 to 264VAC (nominally 240VAC). Power consumption is less than 50mA. 2kV isolation is specified between the AC supply and the load conductor. The ACA-20RM-ALM series feature full-size 0.37in. (9.4mm), three-and-a-half digit, bright LED displays and a built-in bezel / filter assembly with metal fasteners. Operating temperature range is 0°C to +60°C. Overall dimensions are 2.1in. (53.33mm) x 1.4in. (35.56) and the panel cut-out dimensions are compatible with Murata Power Solutions' DMS-20RM rms-reading AC voltage monitors allowing straight-forward upgrades of customer instrumentation to be implemented.
Ref. MPS342A
Further editorial information from:
Amy Collins
Marketing Communications Manager
Murata Power Solutions
Tel: +1-508-964-5270
Contact details for publication:
Murata Power Solutions, Inc.,
129 Flanders Road
Westborough, MA 01581, USA
Tel: +1-508-339-3000
About Murata Power Solutions
Murata Power Solutions (www.murata-ps.com) is headquartered in Westborough, Massachusetts, with over 1,300 employees worldwide. Murata Power Solutions designs, manufactures and distributes DC-DC Converter, AC-DC Power Supply, Magnetic and Digital Panel Meter product lines, and offers these products in custom, standard and modified-standard variations. Murata Power Solutions. products are typically used within electronic applications serving major global market sectors including telecommunications, computing and industrial controls.
Murata Power Solutions is a division of Murata Manufacturing Co., Ltd., a worldwide leader in the design, manufacture and sale of electronic components and power supply modules. Murata's devices are found in a wide range of applications including consumer and automotive electronics, and wireless devices. The company has employees and manufacturing facilities throughout the world.