DMS-20RM : Fully integrated true-rms Voltmeters measure to 0V for complex AC voltages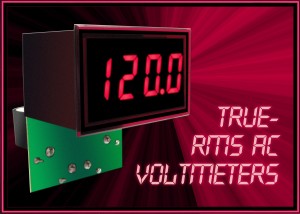 EN
|
FR
|
DE
|
CN
|
JP
Murata Power Solutions has introduced a new series of  Voltmeters that overcome the limitations of conventional average-responding AC Voltmeters. The  DMS-20RM series is able to measure the true-rms value of complex AC voltages and, with an input frequency range of 47 - 1kHz, is ideal for use in a wide range of applications including high-end consumer electronics, laboratory instrumentation and other equipment requiring precise AC line monitoring. Conventional average-responding AC Voltmeters are limited in that they only produce accurate readings when measuring ideal sine-wave voltages. The DMS-20RM series can also measure and accurately display the true-rms value of triangle waves, square waves or other irregularly shaped waveforms with a full scale accuracy ±of 0.4%. Also, unlike average-responding AC Voltmeters, the new modules from Murata Power Solutions are able to measure down to 0V as they use their own integrated, independent power supply that is fully isolated (up to 2kV) from the input AC signal. The four-wire DMS-20RM series is available with a choice of three input ranges of 20VAC (with 0.01V resolution), 200VAC (0.1V resolution) or 300VAC (1V resolution). Depending on their application, customers can choose modules that operate from a supply voltage of either 85 to 264VAC or 10 to 40VDC. No external isolation transformers or auxiliary power supply conditioning components are required for the fully self-contained modules. Rugged, fully encapsulated polycarbonate housings make the DMS-20RM series both moisture and vibration resistant. A large, three-and-a-half digit 9.4mm (0.37in.) bright red LED display allows easy reading of measurements from distances of up to approximately four meters (12 feet). Overall dimensions of the new modules (excluding PCB) are 1.38in. x 0.88in. x 1.00in. deep (35mm x 22.4mm x 25.4mm deep) and the units are packaged in a red filter case with a built-in bezel. Operating temperature range is -25°C to +60°C.
Ref. MPS339A
Further editorial information from:
Amy Collins
Marketing Communications Manager
Murata Power Solutions
Tel: +1-508-964-5270
Contact details for publication:
Murata Power Solutions, Inc.,
129 Flanders Road
Westborough, MA 01581, USA
Tel: +1-508-339-3000
About Murata Power Solutions
Murata Power Solutions (www.murata-ps.com) is headquartered in Westborough, Massachusetts, with over 1,300 employees worldwide. Murata Power Solutions designs, manufactures and distributes DC-DC Converter, AC-DC Power Supply, Magnetic and Digital Panel Meter product lines, and offers these products in custom, standard and modified-standard variations. Murata Power Solutions. products are typically used within electronic applications serving major global market sectors including telecommunications, computing and industrial controls.
Murata Power Solutions is a division of Murata Manufacturing Co., Ltd., a worldwide leader in the design, manufacture and sale of electronic components and power supply modules. Murata's devices are found in a wide range of applications including consumer and automotive electronics, and wireless devices. The company has employees and manufacturing facilities throughout the world.