NTF : Integrated design surface mount 1W DC/DC converters bring benefits of IC-style packaging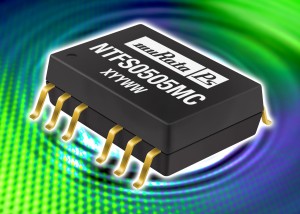 EN
|
FR
|
DE
|
CN
|
JP
NTF series 1W surface mount isolated DC/DC Converters from Murata Power Solutions are integrated, IC-style true surface mount packages that help simplify their inclusion in customer designs. The wide input range devices are ideal for use in battery powered products plus a wide range of other applications, especially those where high volume is expected. Comprising nine models with efficiency levels up to 70%, the NTF series is available with a choice of three wide range input voltages of 4V - 6V (nominally 5V), 9V - 15V (nominally 12V) and 18V - 36V (nominally 24V). Tightly regulated output voltages of 5V, 12V or 15V are offered. All devices provide 1kVDC isolation and include a voltage trim feature. The NTF series employs leadframe technology and transfer moulding techniques to bring all the benefits of IC packaging to hybrid circuitry. Co-planarity of the lead positions is based upon IEC 191-6:1990 and package materials are UL 94V-0 rated. Overall dimensions of 0.7in.(17.78mm) x 0.5in. (12.70mm) x 0.228in. (5.80mm) give the NTF series a power density of 0.7W/cm3. Devices in the RoHS compliant series have an operating temperature range of -40°C to +85°C and have a mean time to failure (MTTF) of up to 1.4 million hours.
Ref. MPS261A
Further editorial information from:
Amy Collins
Marketing Communications Manager
Murata Power Solutions
Tel: +1-508-964-5270
Contact details for publication:
Murata Power Solutions, Inc.,
129 Flanders Road
Westborough, MA 01581, USA
Tel: +1-508-339-3000
About Murata Power Solutions
Murata Power Solutions (www.murata-ps.com) is headquartered in Westborough, Massachusetts, with over 1,300 employees worldwide. Murata Power Solutions designs, manufactures and distributes DC-DC Converter, AC-DC Power Supply, Magnetic and Digital Panel Meter product lines, and offers these products in custom, standard and modified-standard variations. Murata Power Solutions. products are typically used within electronic applications serving major global market sectors including telecommunications, computing and industrial controls.
Murata Power Solutions is a division of Murata Manufacturing Co., Ltd., a worldwide leader in the design, manufacture and sale of electronic components and power supply modules. Murata's devices are found in a wide range of applications including consumer and automotive electronics, and wireless devices. The company has employees and manufacturing facilities throughout the world.