OKY-T/3 & OKY-T/5 : World's number one board-mounted power company introduces first three models in Okami™ DOSA-compliant point-of-load DC/DC converter range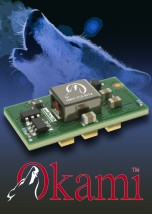 EN
|
FR
|
DE
|
CN
|
JP
Murata Power Solutions has introduced the first three models in its new Okami™ range of miniature non-isolated single output point-of-load (PoL) DC/DC converters. The new modules represent the latest innovation from Murata Power Solutions, further strengthening its position as the world's number one supplier in the board mounted power sector. The OKY-T/3-D12P-C, OKY-T/3-D12N-C and OKY-T/5-D12N-C provide designers of equipment requiring high efficiency PoL power with compact and reliable solutions that deliver respective output currents of 3A and 5A. The modules can act as a drop-in replacement for other DOSA-compliant parts or be used as a cost-competitive alternative to discrete designs where reduced component count and shorter time-to-market are required. Housed in an industry-standard Distributed-Power Open Standards Alliance (DOSA) surface-mount package, the Okami OKY-T/3-D12P-C, OKY-T/3-D12N-C and OKY-T/5-D12N-C have a wide input voltage range of 8.3VDC to 14VDC (nominal 12VDC) and can be used with high capacitance loads of up to 1000µF. This makes the modules ideal for powering the latest generation of FPGAs and DSPs that require tight output load regulation. The modules have an operating temperature range of -40°C to +85°C. Fabricated on a 20.8mm (0.82in.) x 12mm (0.47in.) surface mount module and using fixed-frequency buck switching topology, the OKY-T/3 and OKY-T/5 offer narrow line/load regulation and achieve high efficiency levels of up to 93% (3.3Vout/5A) with no heatsink and no extra components. The design also results in very low heat and minimal electrical noise. All of the new models provide a user selectable output (via a precision resistor) of 0.75VDC to 5.5VDC and incorporate a remote on/off control. Inputs are protected from undervoltage whilst outputs have short circuit protection plus overcurrent and excess temperature shutdown. The modules are RoHS-compliant, have an MSL (moisture sensitivity level) rating of 2, and are designed to meet UL/EN/IEC 60950-1 safety approvals and FCC emissions certifications.
Ref. MPS346A
Further editorial information from:
Amy Collins
Marketing Communications Manager
Murata Power Solutions
Tel: +1-508-964-5270
Contact details for publication:
Murata Power Solutions, Inc.,
129 Flanders Road
Westborough, MA 01581, USA
Tel: +1-508-339-3000
About Murata Power Solutions
Murata Power Solutions (www.murata-ps.com) is headquartered in Westborough, Massachusetts, with over 1,300 employees worldwide. Murata Power Solutions designs, manufactures and distributes DC-DC Converter, AC-DC Power Supply, Magnetic and Digital Panel Meter product lines, and offers these products in custom, standard and modified-standard variations. Murata Power Solutions. products are typically used within electronic applications serving major global market sectors including telecommunications, computing and industrial controls.
Murata Power Solutions is a division of Murata Manufacturing Co., Ltd., a worldwide leader in the design, manufacture and sale of electronic components and power supply modules. Murata's devices are found in a wide range of applications including consumer and automotive electronics, and wireless devices. The company has employees and manufacturing facilities throughout the world.