ICF Series : Industry leading 96.4% efficient, 1kW full-brick dc-dc converter for use in industrial and battery applications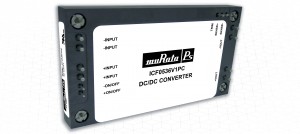 Murata introduces the industry's highest power density full brick with a 9V-36Vin range from Murata Power Solutions, ideally suited for battery operated and Industrial applications. With a typical efficiency rating of 96.4%, Murata is positioned well ahead of the competition, who provides solutions at 87% efficiency and 400W output power. With two times the power rating, applications that use two full bricks can be reduced to a single full brick, saving space, time, and money. This is the third modular DC-DC converter development effort targeted for battery and industrial 12V & 24V systems. The first in the series was the industry-leading ICQ 250W quarter-brick announced in September 2016, followed by the ICH 360W & 500W half-brick modules in October 2016. The ICF series follows the same design principles to provide an industrial grade, rugged, high-power, baseplate-cooled DC-DC converter. The ICF series offers two output voltage options, 24V or 28V, and is packaged in an enclosed industry-standard full-brick package designed to lower the weight and improve thermal performance. Measuring 119.0 x 64.0 x 13.2 mm (4.7 x 2.5 x 0.52 inches), the converter's specially designed package/baseplate meets the environmental stress limits for shock and vibration specified in MIL-STD-810G, while offering full power with a baseplate operating temperature range of-40°C to +105°C without derating. The ICF series achieves its high performance by incorporating proprietary circuit architectures, synchronous rectification, advanced packaging, and thermal design advances. The ICF series has been designed to meet EN60950, UL/CSA safety requirements for embedded power modules. A Basic insulation system provides galvanic input-to-output isolation rated at 2250VDC that is provided across all models. The industry-standard full-brick enclosed package has been specially designed to meet the demands of rugged operating environments and complies with the MIL-STD-810G standard for functional shock and vibration. Typical applications include 12 or 24V battery systems, powering motor drive systems, emergency vehicle electronics, smart grid, and heavy-duty truck power bus solutions. With high efficiency characteristics, typically to 96.4%, the ICF series has no minimum load requirement, keeping energy consumption to a minimum when the end device is in standby, as well as ensuring stable operation in low load conditions. The ICF series is designed to operate over the temperature range from -40°C to +105°C. Modules with an extended temperature range down to -55°C are available for special order. All modules come with a positive logic remote On/Off control as the standard configuration, along with full protection features including input transient to 50VDC, over-temperature shutdown, output over-current, and input under-voltage lockout. The ICF series is scheduled for production release in January 2017; pre-production samples are available upon request.
Ref. MUR391
Further editorial information from:
Amy Collins
Marketing Communications Manager
Murata Power Solutions
Tel: +1-508-964-5270
Contact details for publication:
Murata Power Solutions, Inc.,
129 Flanders Road
Westborough, MA 01581, USA
Tel: +1-508-339-3000
About Murata Power Solutions
Murata Power Solutions (www.murata-ps.com) is headquartered in Westborough, Massachusetts, with over 1,300 employees worldwide. Murata Power Solutions designs, manufactures and distributes DC-DC Converter, AC-DC Power Supply, Magnetic and Digital Panel Meter product lines, and offers these products in custom, standard and modified-standard variations. Murata Power Solutions. products are typically used within electronic applications serving major global market sectors including telecommunications, computing and industrial controls.
Murata Power Solutions is a division of Murata Manufacturing Co., Ltd., a worldwide leader in the design, manufacture and sale of electronic components and power supply modules. Murata's devices are found in a wide range of applications including consumer and automotive electronics, and wireless devices. The company has employees and manufacturing facilities throughout the world.