MGJ6 Extension : 6 Watt DC-DC converter optimized for IGBT, SiC, and MOSFET gate drive applications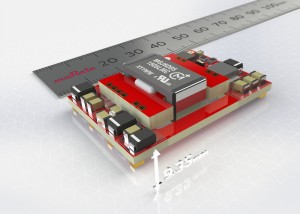 Murata has announced an extension to their MGJ6 series of isolated 6 Watt dual output DC-DC converters from Murata Power Solutions. Optimized to suit the bipolar voltages required for high-side and low-side IGBT, SiC, and MOSFET gate drive applications, the MGJ6 series is available now in SIP, DIP, and a low profile surface mount package format. The series comprises combinations of wide input voltages with nominals of 5, 12, or 24 VDC and +15 / -5, +15 / -10 or +20 / -5 VDC outputs. Suitable for low to medium power applications that require a DC link voltage up to 3 kVDC, the asymmetric outputs provide optimum drive levels to maintain a high system efficiency with low EMI levels. Also, with its very low coupling capacitance, typically 15pF EMI coupling through the converter is reduced. The MGJ6 series has a characterized dV/dt immunity of 80 kV/us minimum at 1.6 kV, contributing to a high degree of reliability in fast switching drive systems. The series also has characterized partial discharge performance, crucial to achieving a long service life in high-performance applications. Certification to safety standard UL60950 for reinforced insulation and the medical 3rd edition safety standard ANSI/AAMI ES60601-1 for 2 MOOPs and 2 MOPPs is currently pending. With a creepage and clearance of 8 mm, the MGJ6 will satisfy safety agency requirements for extra-high working voltages. Murata's product marketing manager, Ann-Marie Bayliss comments, "The MGJ6 series provides optimized voltages for power gate drives for the best overall system performance and efficiency. With characterized partial discharge performance, they are now available in a choice of form factors." Short circuit and overload protection features are standard across the range and a frequency synchronization/enable input pin can simplify EMC filter design.
Ref. MUR392
Further editorial information from:
Amy Collins
Marketing Communications Manager
Murata Power Solutions
Tel: +1-508-964-5270
Contact details for publication:
Murata Power Solutions, Inc.,
129 Flanders Road
Westborough, MA 01581, USA
Tel: +1-508-339-3000
About Murata Power Solutions
Murata Power Solutions (www.murata-ps.com) is headquartered in Westborough, Massachusetts, with over 1,300 employees worldwide. Murata Power Solutions designs, manufactures and distributes DC-DC Converter, AC-DC Power Supply, Magnetic and Digital Panel Meter product lines, and offers these products in custom, standard and modified-standard variations. Murata Power Solutions. products are typically used within electronic applications serving major global market sectors including telecommunications, computing and industrial controls.
Murata Power Solutions is a division of Murata Manufacturing Co., Ltd., a worldwide leader in the design, manufacture and sale of electronic components and power supply modules. Murata's devices are found in a wide range of applications including consumer and automotive electronics, and wireless devices. The company has employees and manufacturing facilities throughout the world.