DMS-20PC : Blue and green LED versions added to low-power digital panel voltmeter range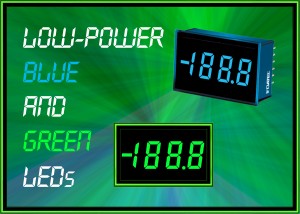 EN
|
FR
|
DE
|
CN
|
JP
Murata Power Solutions' low-power, high brightness, three-and-a-half digit, DMS-20PC digital panel voltmeters are now available with 'brilliant blue' or 'pure green' LED colours in addition to the current 'low-power red'. The DMS-20PC series provides a sub-miniature, low-cost solution in applications such as battery chargers, power amplifiers, rack-mounted power and high-end consumer electronics. Advances in LED Technology have allowed Murata Power Solutions to offer the two new colors. Innovations in LED drive circuit technology developed by Murata Power Solutions and used in the DMS-20PC range mean that power consumption is just 12 to 17mA for blue and green LED models, and 7 to 12mA for red LED versions (all @ +5VDC). This compares to the 150mA to 200mA seen in many competing products. This low-power performance has been achieved without a reduction in LED brightness - in fact, DMS-20PC LED panel meters are brighter than many standard power counterparts. Housed in an epoxy-encapsulated 12-pin DIP package with a built-in color filter and bezel, the DMS-20PC series offers component-like plug-in convenience and is moisture and vibration proof making it well suited to use in the harshest environments. Operating temperature range is 0°C to +60°C. The fully self-contained and fully functional meters combine a precision A/D converter and a factory-trimmed, highly stable voltage reference. Powered by a single +5V supply, the DMS-20PC has four differential input voltage ranges: ±200mV, ±2V, ±20V or ±200V, input overvoltage protection (on the non-inverting input) is ±250V. All models have a factory calibrated ±1 count accuracy (0.05% of full scale range) and are designed to never require calibration. The compact overall package dimensions of 35mm (1.38in.) x 22mm (0.88in.) x 12mm (0.48in.) are only slightly larger than the 9.4mm (0.37in.) high display itself therefore helping to maximize use of space in customer applications. The DMS-20PC features a DISPLAY TEST function and a DISPLAY ENABLE function that permits the display to be disabled for 'power-down' operation. 'Standard red' LED models also offer an optional DISPLAY HOLD function.
Ref. MPS338A
Further editorial information from:
Amy Collins
Marketing Communications Manager
Murata Power Solutions
Tel: +1-508-964-5270
Contact details for publication:
Murata Power Solutions, Inc.,
129 Flanders Road
Westborough, MA 01581, USA
Tel: +1-508-339-3000
About Murata Power Solutions
Murata Power Solutions (www.murata-ps.com) is headquartered in Westborough, Massachusetts, with over 1,300 employees worldwide. Murata Power Solutions designs, manufactures and distributes DC-DC Converter, AC-DC Power Supply, Magnetic and Digital Panel Meter product lines, and offers these products in custom, standard and modified-standard variations. Murata Power Solutions. products are typically used within electronic applications serving major global market sectors including telecommunications, computing and industrial controls.
Murata Power Solutions is a division of Murata Manufacturing Co., Ltd., a worldwide leader in the design, manufacture and sale of electronic components and power supply modules. Murata's devices are found in a wide range of applications including consumer and automotive electronics, and wireless devices. The company has employees and manufacturing facilities throughout the world.