UCQ : Quarter-Brick UCQ Series DC/DC Converters Provide Economical Solution with Outstanding Thermal Performance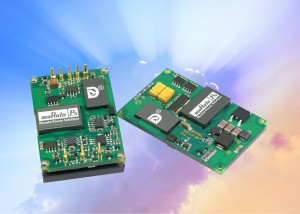 High efficiency single-output DC/DC converters in industry standard package measuring 36.8mm x 58.4mm x 10.2mm
20A, 30A and 35A output current versions
1.4 million hours MTBF and compliance with agency approvals
Murata Power Solutions has introduced a new series of single output, isolated DC/DC converters that combine excellent performance and low cost in applications such as telecom and datacoms equipment, base stations and embedded systems. The low profile, quarter-brick UCQ series consists of: A 24V input (18-36V range) version with a 3.3V/35A output, and two 48V input (36-75V range) models with outputs of 3.3V/30A and 5V/20A. All have a calculated mean-time-before-failure (MTBF) of 1.4 million hours. The UCQ's interleaved, synchronous-rectifier topology provides several benefits, including high efficiency (up to 93%), line and load regulation down to ±0.2%, 35mV peak-to-peak noise, no output reverse conduction, and 150µS step response. The single board optimised open-frame design, which measures 36.8mm x 58.4mm x 10.2mm, helps the UCQ series deliver impressive thermal performance; the modules will operate between -40ºC and +70ºC and 100 LFM airflow, with no derating. The design includes input Pi filters to reduce propagated switching noise back to input sources. Also included is a remote On/Off switch control (with positive or negative polarity), and output trim adjustable from -20% to +10% over nominal and output sense functions to reduce power lead losses. Numerous built-in I/O protection features prevent damage caused by out of limit voltages, currents and temperatures. The modules use the 'hiccup' technique to provide automatic recovery when required. The UCQ series features full isolation to 2250VDC giving compliance to the (BASIC) requirements of UL/EN/IEC60950. The new DC/DC converters are also Qual/HALT/EMI tested and ULV94-0 rated for flammability.
Ref. CD212A
Further editorial information from:
Amy Collins
Marketing Communications Manager
Murata Power Solutions
Tel: +1-508-964-5270
Contact details for publication:
Murata Power Solutions, Inc.,
129 Flanders Road
Westborough, MA 01581, USA
Tel: +1-508-339-3000
About Murata Power Solutions
Murata Power Solutions (www.murata-ps.com) is headquartered in Westborough, Massachusetts, with over 1,300 employees worldwide. Murata Power Solutions designs, manufactures and distributes DC-DC Converter, AC-DC Power Supply, Magnetic and Digital Panel Meter product lines, and offers these products in custom, standard and modified-standard variations. Murata Power Solutions. products are typically used within electronic applications serving major global market sectors including telecommunications, computing and industrial controls.
Murata Power Solutions is a division of Murata Manufacturing Co., Ltd., a worldwide leader in the design, manufacture and sale of electronic components and power supply modules. Murata's devices are found in a wide range of applications including consumer and automotive electronics, and wireless devices. The company has employees and manufacturing facilities throughout the world.