DMR20-1-TMP-R-C : Murata announces panel mount digital thermometers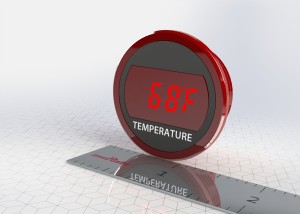 Murata announces the addition of a thermometer to Murata Power Solutions' DMR20 series of round, miniature digital panel meters. The DMR20-1-TMP-R-C digital thermometer has been designed to monitor ambient air temperatures in the range of -40°C (-40°F) to +105°C (+221°F) using an NTC thermistor as the sensing element. This meter is packaged in a round polycarbonate housing designed to easily mount in a 1.2 inch (30.5mm) "oil tight" panel cut out. The DMR20-1-TMP-R-C utilizes easy-to-read LED displays and precision components to achieve typical accuracies of ±1° Celsius. Digital displays provide more accuracy and greater resolution than analog meters, as well as being more rugged and, depending on the application, more cost-effective. The DMR20-1-TMP-R-C operates from either a 24 VAC or 6–50 VDC power source and covers a wide temperature range for use in many environments. Typical applications include heating and cooling equipment, refrigeration, recreational vehicles, industrial ovens and heaters, process monitoring, burn-in instrumentation, test and measurement, and weather monitoring.
Ref. MUR369
Further editorial information from:
Amy Collins
Marketing Communications Manager
Murata Power Solutions
Tel: +1-508-964-5270
Contact details for publication:
Murata Power Solutions, Inc.,
129 Flanders Road
Westborough, MA 01581, USA
Tel: +1-508-339-3000
About Murata Power Solutions
Murata Power Solutions (www.murata-ps.com) is headquartered in Westborough, Massachusetts, with over 1,300 employees worldwide. Murata Power Solutions designs, manufactures and distributes DC-DC Converter, AC-DC Power Supply, Magnetic and Digital Panel Meter product lines, and offers these products in custom, standard and modified-standard variations. Murata Power Solutions. products are typically used within electronic applications serving major global market sectors including telecommunications, computing and industrial controls.
Murata Power Solutions is a division of Murata Manufacturing Co., Ltd., a worldwide leader in the design, manufacture and sale of electronic components and power supply modules. Murata's devices are found in a wide range of applications including consumer and automotive electronics, and wireless devices. The company has employees and manufacturing facilities throughout the world.