NXE2 : Two Watt DC-DC converter has 50% lower profile than industry norm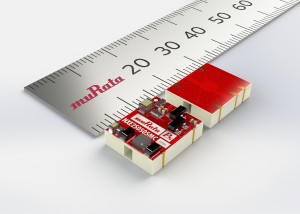 Murata has announced the NXE2 series of 2 Watt surface mounted DC/DC converters from Murata Power Solutions. Footprint compatible with similar 1 and 2 Watt devices available on the market, and measuring just 12.5 x 4.36 x 10.41 mm, the NXE2 series provides more power output in the same space. The converter is constructed using fully automated techniques in a halogen free iLGA inspectable package with an integrated transformer. This approach increases product reliability and repeatability of converter performance. The series comprises four models with nominal input voltages of +5 or +12 VDC and outputs of +5, +12 or +15 VDC. Input to output isolation of 3 kVDC is standard across the range. Ann-Marie Bayliss, product marketing manager, Murata Power Solutions comments, "The NXE2 series represents a 2 Watt halogen free converter in a footprint that has a 50% lower profile." The NXE2 series is suitable for use in industrial automation, instrumentation, and transportation equipment. It is also intended for use in telecom, wireless, and medical designs that require a low power isolated DC voltage. Certification to UL60950 and medical safety is pending.
Ref. MUR374
Further editorial information from:
Amy Collins
Marketing Communications Manager
Murata Power Solutions
Tel: +1-508-964-5270
Contact details for publication:
Murata Power Solutions, Inc.,
129 Flanders Road
Westborough, MA 01581, USA
Tel: +1-508-339-3000
About Murata Power Solutions
Murata Power Solutions (www.murata-ps.com) is headquartered in Westborough, Massachusetts, with over 1,300 employees worldwide. Murata Power Solutions designs, manufactures and distributes DC-DC Converter, AC-DC Power Supply, Magnetic and Digital Panel Meter product lines, and offers these products in custom, standard and modified-standard variations. Murata Power Solutions. products are typically used within electronic applications serving major global market sectors including telecommunications, computing and industrial controls.
Murata Power Solutions is a division of Murata Manufacturing Co., Ltd., a worldwide leader in the design, manufacture and sale of electronic components and power supply modules. Murata's devices are found in a wide range of applications including consumer and automotive electronics, and wireless devices. The company has employees and manufacturing facilities throughout the world.