BPM15 : Murata announces rugged BPM15 series of isolated DC-DC power modules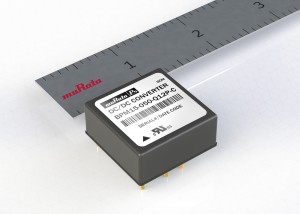 Murata has announced the BPM15 Series of isolated DC-DC power modules from Murata Power Solutions, designed to deliver 15W of isolated output power from ±5V, ±12V, and ±15V outputs. This series provides a good balance between electrical performance, rugged mechanical design, and cost, while providing flexibility for power system engineers. The BPM15 series address a growing demand for isolated DC/DC modules that accept 4:1 input ranges of 9-36V & 18-75V. These models have an isolation barrier that will withstand 1600VDC with a basic insulation system. The series also incorporates the latest PWM (Pulse Width Modulation) technology with SMT and automated assembly components. The BPM15 is specified to operate over the temperature range of -40°C to +85°C providing the ideal modular power solution for extended environment and high-reliability industrial applications with little or no airflow. The units are ruggedized and encapsulated in 1" x 1" x 0.40" high, five sided, shielded metal package designed to optimize thermal and mechanical performance and reliability. They will find applications in harsh environments including industrial, smart grid, data storage, networking, computing/server, and telecommunications. "The BPM15 series of DC-DC converters, covering a Vin range from 9V to 75V, encapsulated in a rugged 1" x 1", five-sided shielded package, are ideal solutions for a wide variety of applications. Power systems engineers will benefit from the small size, high efficiency, and rugged packaging of the BPM15 series," says Bill Smith, Director, Product Line Management, Murata Power Solutions. The BPM15 is certified to UL-60950-1, CSA-C22.2 No. 60950-1, IEC/60950-1, 2nd edition. Sample quantities are now available.
Ref. MUR364
Further editorial information from:
Amy Collins
Marketing Communications Manager
Murata Power Solutions
Tel: +1-508-964-5270
Contact details for publication:
Murata Power Solutions, Inc.,
129 Flanders Road
Westborough, MA 01581, USA
Tel: +1-508-339-3000
About Murata Power Solutions
Murata Power Solutions (www.murata-ps.com) is headquartered in Westborough, Massachusetts, with over 1,300 employees worldwide. Murata Power Solutions designs, manufactures and distributes DC-DC Converter, AC-DC Power Supply, Magnetic and Digital Panel Meter product lines, and offers these products in custom, standard and modified-standard variations. Murata Power Solutions. products are typically used within electronic applications serving major global market sectors including telecommunications, computing and industrial controls.
Murata Power Solutions is a division of Murata Manufacturing Co., Ltd., a worldwide leader in the design, manufacture and sale of electronic components and power supply modules. Murata's devices are found in a wide range of applications including consumer and automotive electronics, and wireless devices. The company has employees and manufacturing facilities throughout the world.