SPC-54/4.4-L12PG-C : Murata regulated converter delivers POE compliant power from a 12V source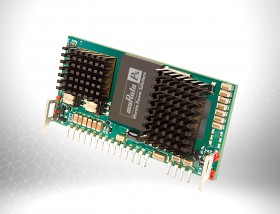 Murata has announced the SPC-54/4.4-L12PG-C, which is designed to deliver isolated 54V Power over Ethernet (PoE) at up to 240W. This very compact SIP (single inline package) module can power up to nine PoE devices at 25.5W from a 12V source. The SPC-54/4.4-L12PG-C was developed to deliver power to Ethernet devices over traditional Cat 5 network cables in accordance with IEEE 802.3 PoE requirements. This unique PoE source module is designed to operate in applications that support a 12V power source, converting 12V to 54V @ 240W, to power and support multiple PoE devices. Proprietary circuit architecture provides a 94% efficient, PoE compliant, 54V output. The module provides PoE safety requirements that include input to output isolation at 2,250Vdc with basic insulation and overvoltage protection that meets SELV requirements. The module is packaged in a SIP format to save board space, and to optimize Pout capabilities in demanding applications. Advanced thermal management allows 240 Watts of power at 60°C in a very compact package. Total PCB board space required is just 2.64" x 0.35" (67.0 x 8.9mm). With a Vin range of 10.5V to 13.2V, the SPC-54/4.4-L12PG-C is suitable for resource-efficient, end-to-end information and communications technology (ICT) ecosystems that utilize PoE devices. These devices include VoIP phones, IP cameras, wireless access points, IPTV decoders, network routers, network switches, network intercoms, industrial sensors, keyless access systems, and lighting controllers.
Ref. MUR365
Further editorial information from:
Amy Collins
Marketing Communications Manager
Murata Power Solutions
Tel: +1-508-964-5270
Contact details for publication:
Murata Power Solutions, Inc.,
129 Flanders Road
Westborough, MA 01581, USA
Tel: +1-508-339-3000
About Murata Power Solutions
Murata Power Solutions (www.murata-ps.com) is headquartered in Westborough, Massachusetts, with over 1,300 employees worldwide. Murata Power Solutions designs, manufactures and distributes DC-DC Converter, AC-DC Power Supply, Magnetic and Digital Panel Meter product lines, and offers these products in custom, standard and modified-standard variations. Murata Power Solutions. products are typically used within electronic applications serving major global market sectors including telecommunications, computing and industrial controls.
Murata Power Solutions is a division of Murata Manufacturing Co., Ltd., a worldwide leader in the design, manufacture and sale of electronic components and power supply modules. Murata's devices are found in a wide range of applications including consumer and automotive electronics, and wireless devices. The company has employees and manufacturing facilities throughout the world.