DMR20-1-FM-R-C : Self-powered LED meter displays AC line frequency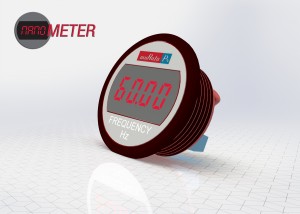 Murata announces the third generation of the DMR20 series of round, miniature digital panel frequency monitors. Designed to measure and display AC mains frequencies in the range of 45 to 65 Hertz, over an input voltage of 85 to 264 VAC, the monitor is suitable for mounting in an industry-standard "oiltight" 30 and 30.5 mm / 1.2 inch round panel cutout. The DMR20-1-FM-R-C frequency monitor is a self-powered, 2-wire meter that does not require any additional external power sources. Equipped with a quartz crystal-controlled microcontroller-based timing circuitry, this monitor is a companion product to Murata's AC voltmeter, model number DMR20-1-ACV-R-C. The meter has a display resolution of one hundredth of a Hertz (0.01Hz) from 45 to 65 Hertz, making it an attractive replacement for outdated analog frequency meters and meaning that no additional components or separate power supply is required for the unit. The unit features a rugged housing with seamless construction on all sides, providing protection to IP67 / NEMA 6 specifications for dust, dirt, and moisture. Typical applications include use in industrial and consumer backup generators, marine instrument panels, power distribution units (PDUs), off-grid power generation, portable generators, utility test sets, and as a replacement for old analog "needle-style" frequency meters. The DMR20 can operate from -25 to +60 degrees C. "Murata's DMR20-1-FM-R-C ac line frequency monitor is the third model in a new line of low-cost, LED-display, digital panel meters designed to fit standard 1.2 inch round switch cutouts. Its rugged polycarbonate case offers excellent resistance to moisture, dust, and vibration, making it ideal for applications where protection from harsh environments is required," says Roy Cabral, Product Marketing Manager, Murata Power Solutions.
Ref. MUR370
Further editorial information from:
Amy Collins
Marketing Communications Manager
Murata Power Solutions
Tel: +1-508-964-5270
Contact details for publication:
Murata Power Solutions, Inc.,
129 Flanders Road
Westborough, MA 01581, USA
Tel: +1-508-339-3000
About Murata Power Solutions
Murata Power Solutions (www.murata-ps.com) is headquartered in Westborough, Massachusetts, with over 1,300 employees worldwide. Murata Power Solutions designs, manufactures and distributes DC-DC Converter, AC-DC Power Supply, Magnetic and Digital Panel Meter product lines, and offers these products in custom, standard and modified-standard variations. Murata Power Solutions. products are typically used within electronic applications serving major global market sectors including telecommunications, computing and industrial controls.
Murata Power Solutions is a division of Murata Manufacturing Co., Ltd., a worldwide leader in the design, manufacture and sale of electronic components and power supply modules. Murata's devices are found in a wide range of applications including consumer and automotive electronics, and wireless devices. The company has employees and manufacturing facilities throughout the world.