D1U54P-W-650-12-HBxC : Murata front end D1U54 series power supplies expand with high-density 650W model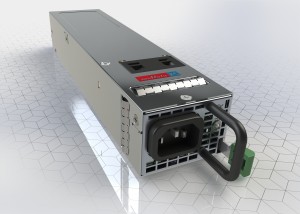 Murata has announced the D1U54P-W-650-12-HBxC series of 650 Watt power supplies manufactured by Murata Power Solutions. Packaged in an industry standard 1U format measuring 54.5 x 40 mm (2.15 x 1.57 inches), it has a length of only 228.6 mm (9 inches) compared to the 12-inch length of other power supplies in this family. Delivering a power density of 21.4 Watts per cubic inch, this compact power supply exceeds the 80 PLUS Platinum efficiency requirements. Featuring a single 12 VDC primary supply, it also provides a standby 12 VDC / 2A output. These hot pluggable units are capable of N+1 redundancy and feature an active current sharing (ORing FET) permitting connecting up to a maximum of eight in parallel. Control features include an I
2
C compliant PMBus™ interface and front panel LED status indicators. Overvoltage, overcurrent, and overtemperature protection is included across the range. Forced air cooling is facilitated by a low-noise variable-speed fan; the direction of airflow, front to back or back to front, can be specified at the time of order. The D1U54 is an AC input unit accommodating the full universal input range from 90 to 264 VAC. A DC input model, D1U54-D-650, is also available in the same size. "The D1U54P-W-650 utilizes advanced component and circuit technologies to deliver the shortest hot pluggable power supply in the industry's de facto standard 54.5mm-width products. System architects will benefit from the reduced length and high efficiency in their server and network designs," says Roya Movahedi, Product Marketing Manager, Murata Power Solutions. The D1U54P-x-650 series is aimed at distributed power architecture applications and is ideal for use with networking equipment and server and storage systems.
Ref. MUR367
Further editorial information from:
Amy Collins
Marketing Communications Manager
Murata Power Solutions
Tel: +1-508-964-5270
Contact details for publication:
Murata Power Solutions, Inc.,
129 Flanders Road
Westborough, MA 01581, USA
Tel: +1-508-339-3000
About Murata Power Solutions
Murata Power Solutions (www.murata-ps.com) is headquartered in Westborough, Massachusetts, with over 1,300 employees worldwide. Murata Power Solutions designs, manufactures and distributes DC-DC Converter, AC-DC Power Supply, Magnetic and Digital Panel Meter product lines, and offers these products in custom, standard and modified-standard variations. Murata Power Solutions. products are typically used within electronic applications serving major global market sectors including telecommunications, computing and industrial controls.
Murata Power Solutions is a division of Murata Manufacturing Co., Ltd., a worldwide leader in the design, manufacture and sale of electronic components and power supply modules. Murata's devices are found in a wide range of applications including consumer and automotive electronics, and wireless devices. The company has employees and manufacturing facilities throughout the world.