DMU-30ACV & DMU-30DCV : Ruggedised panel-mount voltmeter features super-bright LED display for easy reading in all light conditions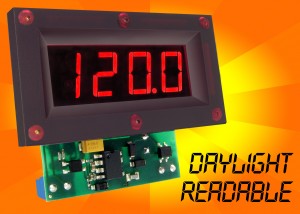 EN
|
FR
|
DE
|
CN
|
JP
|
DN
The ruggedized, daylight readable DMU-30ACV / DCV series of panel mount, digital voltmeters from Murata Power Solutions is ideal for applications in harsh environments. The compact 85VAC - 264VAC mains, or 110VDC - 300VDC battery powered meters are suitable for use in operating temperatures ranging from -25ºC to +60ºC. Typical applications include inverters & generators, battery chargers, power distribution units and power supplies in markets such as industrial, test & measurement, alternative energy / back-up power and marine. The DMU-30ACV / DCV series comprises three AC models capable of measuring up to 20VAC, 200VAC and 300VAC, and four DC models with ranges up to 200mVDC, 2VDC, 20VDC and 200VDC. Flexible inputs provide 2000V isolation between power source and input signal, and allow true-rms measurement of complex waveforms plus simple 2-wire operation for AC mains monitoring. The super-bright, three-and-a-half digit red LED display is readable in direct sunlight with no shading devices and automatically adjusts brightness for indoor or night time viewing. An externally accessible adjustment for minimum intensity is also provided. The DMU-30ACV / DCV series has a low power consumption of typically 1W in full sunlight and 0.1W at night. Easy integration into customer designs is supported by vibration-resistant panel mounting using six M3 stainless steel screws. Reliable screw-style terminal blocks are provided for all input / output connections. The one-piece polycarbonate housing with integrated red bezel and gasket is designed to meet NEMA-4 / IP65 moisture resistance requirements.
Ref. MPS336A
Further editorial information from:
Amy Collins
Marketing Communications Manager
Murata Power Solutions
Tel: +1-508-964-5270
Contact details for publication:
Murata Power Solutions, Inc.,
129 Flanders Road
Westborough, MA 01581, USA
Tel: +1-508-339-3000
About Murata Power Solutions
Murata Power Solutions (www.murata-ps.com) is headquartered in Westborough, Massachusetts, with over 1,300 employees worldwide. Murata Power Solutions designs, manufactures and distributes DC-DC Converter, AC-DC Power Supply, Magnetic and Digital Panel Meter product lines, and offers these products in custom, standard and modified-standard variations. Murata Power Solutions. products are typically used within electronic applications serving major global market sectors including telecommunications, computing and industrial controls.
Murata Power Solutions is a division of Murata Manufacturing Co., Ltd., a worldwide leader in the design, manufacture and sale of electronic components and power supply modules. Murata's devices are found in a wide range of applications including consumer and automotive electronics, and wireless devices. The company has employees and manufacturing facilities throughout the world.