D1U3CS-D-1600-12-HC4EC : Murata adds 1600 Watt DC input model to D1U3CS series for network and storage applications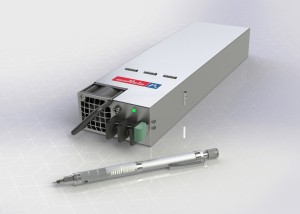 Murata announces the latest addition to the D1U3CS series of front-end, high efficiency, 1U packaged power supplies from Murata Power Solutions. The new 1000VRMS isolated DC-input model to the D1U3CS Series can deliver a full 1600 Watt, 12 VDC output with a conversion efficiency as high as 93% at half load. The D1U3CS Series has a power density of 29 Watts per cubic inch. A 3.3Vdc, 20 Watt standby output is also provided. The DC-input D1U3CS series is hot pluggable, and incorporates low-loss integral ORing Field Effect Transistors (FETs) on its main 12V output for fault-tolerant, redundant, and N+1 applications. With active single-wire current sharing, up to 8 supplies can be easily paralleled for very high current applications. This model has no minimum load requirement. Digitally programmable, the unit is equipped with an I2C interface and supports the industry-standard PMBus™ communications protocol. The supplies incorporate fan cooling with automatic speed control and have an ambient operating temperature range of 0 to +50 degrees C. The D1U3CS series is comprehensively protected against overload and overvoltage conditions and delivers an MTBF of 395,000 hours. The power supply meets the rigorous EN55022-B and FCC part 15 Class B conducted emissions standards, and holds a full complement of international safety certifications including CE Mark and CSA. Typical applications for the D1U3CS series include systems using distributed power architectures, such as computing, storage, networking, data centers and test and measurement systems.
Ref. MUR341
Further editorial information from:
Amy Collins
Marketing Communications Manager
Murata Power Solutions
Tel: +1-508-964-5270
Contact details for publication:
Murata Power Solutions, Inc.,
129 Flanders Road
Westborough, MA 01581, USA
Tel: +1-508-339-3000
About Murata Power Solutions
Murata Power Solutions (www.murata-ps.com) is headquartered in Westborough, Massachusetts, with over 1,300 employees worldwide. Murata Power Solutions designs, manufactures and distributes DC-DC Converter, AC-DC Power Supply, Magnetic and Digital Panel Meter product lines, and offers these products in custom, standard and modified-standard variations. Murata Power Solutions. products are typically used within electronic applications serving major global market sectors including telecommunications, computing and industrial controls.
Murata Power Solutions is a division of Murata Manufacturing Co., Ltd., a worldwide leader in the design, manufacture and sale of electronic components and power supply modules. Murata's devices are found in a wide range of applications including consumer and automotive electronics, and wireless devices. The company has employees and manufacturing facilities throughout the world.