NCS3 : Murata launches 4:1 input 3 watt SIP regulated and isolated DC-DC converter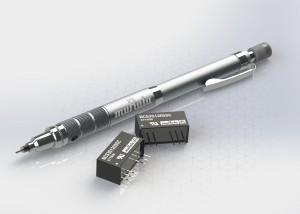 Murata announces the NCS3 series of isolated 3 watt DC-DC converters manufactured by Murata Power Solutions. These through-hole mounting converters are packaged in an industry standard, pin compatible, SIP format, making them ideal as a replacement part when updating older product designs. Accommodating a wide 4:1 input voltage range around either a 12 VDC or 48 VDC nominal, the NCS3 series comprises eight single-output regulated models providing a choice of 3.3, 5, 12, or 15 VDC output. The wide input voltage suits applications where the nominal input voltage might be different, or where wide voltage deviations are anticipated. Output regulation is quoted as better than 1% of stated output, meaning that no additional voltage regulation components are required, saving both cost and valuable board space. Input / output isolation of 1,500 VDC is standard across the range. The NCS3 can deliver 3 watts across a wide range of operating temperatures from -40 degrees C to +95 degrees C with model-dependent derating. Safety features include continuous output short circuit protection and certification to the internationally recognized UL60950 safety standard. Ann-Marie Bayliss, product marketing manager, Murata Power Solutions comments, "With the launch of the NCS3 we continue to build on our range of wide input DC-DC converters and can now offer products at 1, 3, 6, and 12 watts output." Compared to similar products available, the NCS3 series offers up to a 3% power conversion efficiency improvement that aids in lowering overall system power consumption in addition to enhancing product and system reliability.
Ref. MUR336
Further editorial information from:
Amy Collins
Marketing Communications Manager
Murata Power Solutions
Tel: +1-508-964-5270
Contact details for publication:
Murata Power Solutions, Inc.,
129 Flanders Road
Westborough, MA 01581, USA
Tel: +1-508-339-3000
About Murata Power Solutions
Murata Power Solutions (www.murata-ps.com) is headquartered in Westborough, Massachusetts, with over 1,300 employees worldwide. Murata Power Solutions designs, manufactures and distributes DC-DC Converter, AC-DC Power Supply, Magnetic and Digital Panel Meter product lines, and offers these products in custom, standard and modified-standard variations. Murata Power Solutions. products are typically used within electronic applications serving major global market sectors including telecommunications, computing and industrial controls.
Murata Power Solutions is a division of Murata Manufacturing Co., Ltd., a worldwide leader in the design, manufacture and sale of electronic components and power supply modules. Murata's devices are found in a wide range of applications including consumer and automotive electronics, and wireless devices. The company has employees and manufacturing facilities throughout the world.