D1U54-D-1200 Series : AC & DC Input Models Available to 1200Watt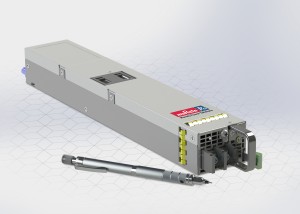 Murata today announced the D1U54-D-1200 series of DC-input front end power supply modules from Murata Power Solutions. This 1000V
RMS
isolated power supply provides a 12Vdc output at 1200 Watts, with a standby voltage at up to 20 Watts of power. With a power density of 28 watts per cubic inch, the slim 54.5mm (2.15") width and 1U height format minimizes space inside to maximize user utility, and user rear panel area. This configuration is popular with 1U and 2U applications in servers, storage equipment, data centers, and telecommunications network equipment. D1U54-D-1200 Series DC-input models accommodate an operating input voltage range of -40Vdc to -72Vdc. This product series complements the AC-input D1U54P-W-1200 models and allows plug and play compatibility between products. The hot swap enabled D1U54-D-1200 Series has integral MOSFET ORing in conjunction with active current sharing of the main output. These features allow up to 8 units to operate in parallel, providing the capability to drive larger loads or to build in N+N redundancy of supplies. With a PMBus™ compliant digital interface, the supply can be monitored, managed and controlled using industry standard PMBus™ protocol commands. Safety features of the D1U54-D-1200 Series include over-voltage, over-current and over-temperature protection. Model selection in the D1U54-D-1200 Series includes choice of a3.3Vdc or 5.0Vdc standby outputs as well as forward or reverse airflow.
Ref. MUR326
Further editorial information from:
Amy Collins
Marketing Communications Manager
Murata Power Solutions
Tel: +1-508-964-5270
Contact details for publication:
Murata Power Solutions, Inc.,
129 Flanders Road
Westborough, MA 01581, USA
Tel: +1-508-339-3000
About Murata Power Solutions
Murata Power Solutions (www.murata-ps.com) is headquartered in Westborough, Massachusetts, with over 1,300 employees worldwide. Murata Power Solutions designs, manufactures and distributes DC-DC Converter, AC-DC Power Supply, Magnetic and Digital Panel Meter product lines, and offers these products in custom, standard and modified-standard variations. Murata Power Solutions. products are typically used within electronic applications serving major global market sectors including telecommunications, computing and industrial controls.
Murata Power Solutions is a division of Murata Manufacturing Co., Ltd., a worldwide leader in the design, manufacture and sale of electronic components and power supply modules. Murata's devices are found in a wide range of applications including consumer and automotive electronics, and wireless devices. The company has employees and manufacturing facilities throughout the world.