UWE : World's first eighth-brick DC/DC Converters to offer 4:1 ultra-wide input voltages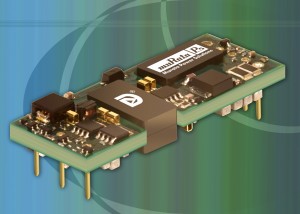 EN
|
FR
|
DE
|
CN
|
JP
|
DN
Murata Power Solutions has introduced a new series of isolated DC/DC Converters that are the world's first modules to offer 4:1 ultra-wide input in an eighth-brick format with 9VDC to 36VDC or 18VDC to 75VDC input. The UWE series provides a fixed output of up to 75W making it ideal as a space saving drop-in replacement for commonly used 100W quarter-brick devices where the full 100W power is not needed. Typical applications for the UWE series include mobile and battery powered devices, test equipment, telecoms and wireless, plus distributed power architectures in markets such as industrial, military & aerospace, networking & wireless telecom and office equipment. The UWE series provides a choice of fixed output voltages of between 3.3VDC and 24VDC to ensure compatibility in embedded equipment, CPU cards and instrument sub-systems. The eighth-brick industry standard through-hole package has overall dimensions of 0.9in. (22.9mm) x 2.3in. (58.4mm) x 0.36in. (9.1mm) high. Operating temperature range is -40ºC to +85ºC with derating. The UWE series has a synchronous rectifier design that provides very high efficiency and low power dissipation, allowing the DC/DC Converters to be used without fans or temperature derating in many applications. An optional thermal mounting baseplate is available to allow operation in the most difficult applications and environments. No reverse conduction allows monotonic start up into pre-biased loads for greatest application flexibility. The UWE series features remote On/Off control, trim, and remote sense functions to provide compensation for line drop errors at high output currents. Extensive self-protection features prevent potential damage to both the converter and outside circuits, including pre-bias operation, input undervoltage, and output short circuit, overcurrent and over temperature protection. Overloads automatically recover using the 'hiccup' technique upon fault removal. The UWE series provides 1500Vdc isolation voltage and is designed to meet UL/EN/IEC 60950-1, CAN/CSA-C22.2 No. 60950-1 safety approvals and complies with the requirements of RoHS-6 and FCC RFI/EMI certification.
Ref. MPS329A
Further editorial information from:
Amy Collins
Marketing Communications Manager
Murata Power Solutions
Tel: +1-508-964-5270
Contact details for publication:
Murata Power Solutions, Inc.,
129 Flanders Road
Westborough, MA 01581, USA
Tel: +1-508-339-3000
About Murata Power Solutions
Murata Power Solutions (www.murata-ps.com) is headquartered in Westborough, Massachusetts, with over 1,300 employees worldwide. Murata Power Solutions designs, manufactures and distributes DC-DC Converter, AC-DC Power Supply, Magnetic and Digital Panel Meter product lines, and offers these products in custom, standard and modified-standard variations. Murata Power Solutions. products are typically used within electronic applications serving major global market sectors including telecommunications, computing and industrial controls.
Murata Power Solutions is a division of Murata Manufacturing Co., Ltd., a worldwide leader in the design, manufacture and sale of electronic components and power supply modules. Murata's devices are found in a wide range of applications including consumer and automotive electronics, and wireless devices. The company has employees and manufacturing facilities throughout the world.