OKR T/20, T/30 and T/50 : SIP PoL now available in 20, 30, and 50 Amp Models from Murata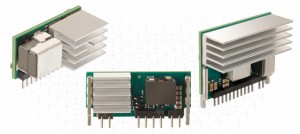 Murata today announced three additions to its Okami OKR series of single output, non-isolated point of load (PoL) DC-DC converters. Constructed in a space efficient single in-line package (SIP) format, these compact devices use the latest synchronous buck technology to deliver outstanding thermal performance, high power density, and efficiencies as high as 95%. The new models add 20, 30, and 50A devices to the existing 1.5, 3, 6, and 10A range. The 20A model, OKR-T/20-W12-C, measures just 15.5 x 36.8 x 11.2 mm and accommodates a wide 6 – 13.8VDC input and a programmable output in the range 0.591 to 5VDC and efficiency up to 94%. The 30A, OKR-T/30-W12-C model offers a 5.5 to 13.8VDC input and a 0.591 to 6VDC output with efficiency up to 95%. The 50A OKR-T/50-W12-C converter has an input voltage range of 6.5V-13.8V, an output in the range 0.591 to 2.5 VDC and measures just 27.9 x 36.8 x 15.5 mm. The OKR series include a number of safety protection features such as over temperature, over current and under voltage lock out (UVLO). The series also have On/Off and remote sense capabilities. Typical applications for the OKR series include powering CPUs, ASICs, FPGAs, DDR3 and DDR4, as well as use in other distributed bus architectures.
Ref. MUR345
Further editorial information from:
Amy Collins
Marketing Communications Manager
Murata Power Solutions
Tel: +1-508-964-5270
Contact details for publication:
Murata Power Solutions, Inc.,
129 Flanders Road
Westborough, MA 01581, USA
Tel: +1-508-339-3000
About Murata Power Solutions
Murata Power Solutions (www.murata-ps.com) is headquartered in Westborough, Massachusetts, with over 1,300 employees worldwide. Murata Power Solutions designs, manufactures and distributes DC-DC Converter, AC-DC Power Supply, Magnetic and Digital Panel Meter product lines, and offers these products in custom, standard and modified-standard variations. Murata Power Solutions. products are typically used within electronic applications serving major global market sectors including telecommunications, computing and industrial controls.
Murata Power Solutions is a division of Murata Manufacturing Co., Ltd., a worldwide leader in the design, manufacture and sale of electronic components and power supply modules. Murata's devices are found in a wide range of applications including consumer and automotive electronics, and wireless devices. The company has employees and manufacturing facilities throughout the world.