PAH-28/12.5-D24 : Half-Brick DC-DC converter for power amplifier applications, wireless networks, and telecom applications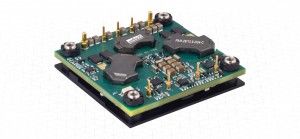 Murata announces the expansion of the PAH series "half-brick" DC-DC power converters from Murata Power Solutions: the PAH-28/12.5-D24 model. These compact modules measure 2.3" X 2.4" X 0.5" (58 X 61 X 12.7mm) and offer the industry-standard half-brick footprint. The PAH series is ideal for power amplifier applications, wireless networks, and telecom applications. The baseplate provides a means for conduction cooling in demanding thermal environment conditions. The module provides a 28Vdc output at 12.5 Amps and accepts a wide input voltage range of 18-36 Vdc. The PAH topology offers high efficiency (up to 92.5%), tight line and load regulation, low ripple/noise, and a fast dynamic load response. A single-board, highly optimized thermal design contributes to superior thermal performance. These half-bricks provide output trim, sense pins, and primary side on/off control. Standard features also include input under-voltage shutdown, output over-voltage protection, output short-circuit/current limiting protection, and thermal shutdown.
Ref. MUR332
Further editorial information from:
Amy Collins
Marketing Communications Manager
Murata Power Solutions
Tel: +1-508-964-5270
Contact details for publication:
Murata Power Solutions, Inc.,
129 Flanders Road
Westborough, MA 01581, USA
Tel: +1-508-339-3000
About Murata Power Solutions
Murata Power Solutions (www.murata-ps.com) is headquartered in Westborough, Massachusetts, with over 1,300 employees worldwide. Murata Power Solutions designs, manufactures and distributes DC-DC Converter, AC-DC Power Supply, Magnetic and Digital Panel Meter product lines, and offers these products in custom, standard and modified-standard variations. Murata Power Solutions. products are typically used within electronic applications serving major global market sectors including telecommunications, computing and industrial controls.
Murata Power Solutions is a division of Murata Manufacturing Co., Ltd., a worldwide leader in the design, manufacture and sale of electronic components and power supply modules. Murata's devices are found in a wide range of applications including consumer and automotive electronics, and wireless devices. The company has employees and manufacturing facilities throughout the world.