UEI15 : Wide input DC/DC Converters deliver 15W from one square inch industry standard package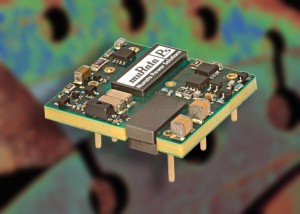 EN
|
FR
|
DE
|
CN
|
JP
|
DN
Murata Power Solutions has expanded its offering of isolated, wide input range DC/DC Converters with the introduction of its UEI15 series. The UEI15 is rated at 15W and comprises eight models that give designers a choice of regulated fixed output voltages from 3.3V to15V. With excellent power density of 15W in just one square inch of board area, the PCB mounting UEI15 series is ideal for high current designs where space is constrained. Typical applications include industrial products, from small instruments, microcontrollers and remote sensor systems, as well as vehicle electronics, transportation and portable equipment. An industry standard 0.96in. x 1.10in. x 0.36in. (24.4mm x 27.9mm x 9.1mm) package and pinout coupled with a wide input voltage range of either 9-36VDC or 18-75VDC simplifies the integration of the UEI15 series into a wide array of applications. The new modules use a synchronous rectifier forward topology to help them achieve efficiency levels of up to 89%. Stable no-load operation is possible with no external components and the converters have an industrial operating temperature range of -40ºC to +85ºC (with derating). The UEI15 series has full magnetic and optical isolation of 2000VDC (9-36Vin) and 2250VDC (18-75Vin) that includes basic insulation. Fast settling to current step loads and tolerance of higher capacitive loads makes the UEI15 series suitable for connection to digital systems, whilst excellent ripple and noise specifications ensure compatibility with circuits using CPUs, ASICs, FPGAs and programmable logic. For applications requiring controlled start-up and shutdown, remote on/off control may be used by means of an external switch, transistor or digital logic. Design features of the UEI15 include input undervoltage lockout and over-temperature shutdown plus output overvoltage and reverse conduction elimination. Output current limiting uses the 'hiccup' auto-restart technique and the converters sustain short-circuits indefinitely. The lead-free assembly helps ensure full compliance with RoHS standards, and all modules in the series meet UL 60950-1, CAN/CSA-C22.2 No. 60950-1, IEC60950-1 and EN60950-1 safety approvals.
Ref. MPS293A
Further editorial information from:
Amy Collins
Marketing Communications Manager
Murata Power Solutions
Tel: +1-508-964-5270
Contact details for publication:
Murata Power Solutions, Inc.,
129 Flanders Road
Westborough, MA 01581, USA
Tel: +1-508-339-3000
About Murata Power Solutions
Murata Power Solutions (www.murata-ps.com) is headquartered in Westborough, Massachusetts, with over 1,300 employees worldwide. Murata Power Solutions designs, manufactures and distributes DC-DC Converter, AC-DC Power Supply, Magnetic and Digital Panel Meter product lines, and offers these products in custom, standard and modified-standard variations. Murata Power Solutions. products are typically used within electronic applications serving major global market sectors including telecommunications, computing and industrial controls.
Murata Power Solutions is a division of Murata Manufacturing Co., Ltd., a worldwide leader in the design, manufacture and sale of electronic components and power supply modules. Murata's devices are found in a wide range of applications including consumer and automotive electronics, and wireless devices. The company has employees and manufacturing facilities throughout the world.