D2U5T Series : Murata introduces 7kW 3-phase AC-DC power supply with 95.5% efficiency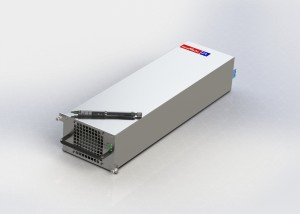 Murata today announced the D2U5T-H3-7000-54 hot-swappable, AC/DC power supply with wide-range three-phase input from Murata Power Solutions. This internally cooled supply provides a 7,000 Watt, 54VDC main output at up to 95.5% efficiency at 50% load. A user selectable standby conveniently offers an output of either 3.3 or 5 VDC. The D2U5T Series offers true 3-wire, 3-phase operation at 7,000 Watts from either a Delta or Wye source. With an input range of 320-525VAC, the D2U5T accommodates 480VAC installations in North America as well as 380VAC installations internationally. With input from voltage sources between 180-264VAC, the D2U5T Series will provide reliable 3,500 Watt operation. Active power factor correction gives this supply a 0.99 power factor and less than 10% harmonic current. Packaged in an industry-standard 2U format and delivering a 23.1 Watt per cubic inch power density, the D2U5T is designed for use in industrial and large data center applications where high efficiency, high power conversion is vital. For larger power requirements, as many as three units can be connected in parallel. This will provide up to 14,000 Watts in N+1 operation, and up to 21,000 Watts in non-redundant applications. The D2U5T Series features over-voltage, over-current, and over-temperature protection. Status LEDs provide a visual indication of power supply status for any fault conditions occurring in the input, output, or power conversion stages of the unit. Control and monitoring of the unit is also possible using the standard PMBus™ interface.
Ref. MUR325
Further editorial information from:
Amy Collins
Marketing Communications Manager
Murata Power Solutions
Tel: +1-508-964-5270
Contact details for publication:
Murata Power Solutions, Inc.,
129 Flanders Road
Westborough, MA 01581, USA
Tel: +1-508-339-3000
About Murata Power Solutions
Murata Power Solutions (www.murata-ps.com) is headquartered in Westborough, Massachusetts, with over 1,300 employees worldwide. Murata Power Solutions designs, manufactures and distributes DC-DC Converter, AC-DC Power Supply, Magnetic and Digital Panel Meter product lines, and offers these products in custom, standard and modified-standard variations. Murata Power Solutions. products are typically used within electronic applications serving major global market sectors including telecommunications, computing and industrial controls.
Murata Power Solutions is a division of Murata Manufacturing Co., Ltd., a worldwide leader in the design, manufacture and sale of electronic components and power supply modules. Murata's devices are found in a wide range of applications including consumer and automotive electronics, and wireless devices. The company has employees and manufacturing facilities throughout the world.