OKDx-T/50 series : Murata Adds Digitally Controlled 50 Amp PoL DC-DC Converter to Okami Lineup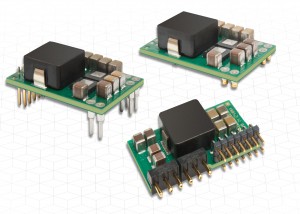 Murata today announced the OKDx-T/50 series of 50 Amp digitally controlled point-of-load (PoL) DC-DC converters from Murata Power Solutions. These converters, adding to Murata's Okami range of non-isolated converters, are capable of delivering 50 A / 165 Watt from a high power density module measuring only 30.85 x 20.0 x 8.2 mm. Available in three different package formats, through-hole, single-in-line, and surface-mount, the converters can be configured and monitored using industry-standard PMBus™ commands. These PoLs have exactly the same footprint as the 40Amp OKDx-T/40 series released by Murata in September and have 25% higher power density. In addition to all the features of the 40A, these series also have "Dynamic Loop Compensation," where the PID parameters of the control loop are automatically calculated and configured depending on the operating conditions and output filter. Another additional feature is the Non-Linear Transient Response that decreases response time and output voltage deviation. Other notable functions include phase spreading to reduce input capacitance requirements and efficiency losses and optimized dead time control that constantly adjusts dead time non-overlap in order to minimize duty cycle and maximize efficiency. Digital current sharing enables 100% current sharing accuracy with up to 7 POLs in parallel. The OKDx-T50 series accommodates input voltages in the range 4.5 to 14 VDC and provides a configurable output voltage from 0.6 to 3.3 VDC. Typical efficiency is 97.2% at 5Vin, 3.3Vout and with 50% load. Standard safety features are output short circuit, over current, output over voltage, and input under voltage protection. Power good, remote sense, and remote on/off are also included. Typical applications for the OKDx-T/50 are a broad range of telecommunications, wireless infrastructure, and data networking equipment.
Ref. MUR319
Further editorial information from:
Amy Collins
Marketing Communications Manager
Murata Power Solutions
Tel: +1-508-964-5270
Contact details for publication:
Murata Power Solutions, Inc.,
129 Flanders Road
Westborough, MA 01581, USA
Tel: +1-508-339-3000
About Murata Power Solutions
Murata Power Solutions (www.murata-ps.com) is headquartered in Westborough, Massachusetts, with over 1,300 employees worldwide. Murata Power Solutions designs, manufactures and distributes DC-DC Converter, AC-DC Power Supply, Magnetic and Digital Panel Meter product lines, and offers these products in custom, standard and modified-standard variations. Murata Power Solutions. products are typically used within electronic applications serving major global market sectors including telecommunications, computing and industrial controls.
Murata Power Solutions is a division of Murata Manufacturing Co., Ltd., a worldwide leader in the design, manufacture and sale of electronic components and power supply modules. Murata's devices are found in a wide range of applications including consumer and automotive electronics, and wireless devices. The company has employees and manufacturing facilities throughout the world.